IRL Rob Liefeld Creation John Cena Should Play Cable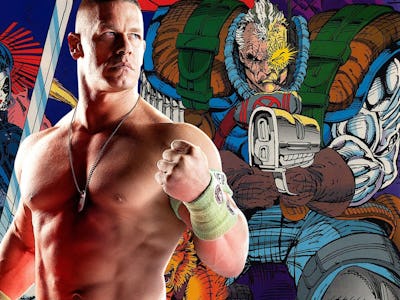 WWE, Marvel Comics
The search for Cable in Deadpool 2 is on. Although the film is more than a year away, popular choices like Stephen Lang (Avatar) and even Jon Hamm have been regularly posed by fans. On Tuesday, Ryan Reynolds fueled speculation via an Instagram post with Hugh Jackman and ex-James Bond Pierce Brosnan with the caption, "Wolvie. Bond. Wade." Fans are eager to know who will bring Cable, the mutant cyborg soldier from the future, to the big screen, but perhaps the perfect choice is one no one has yet considered: John Cena.
Today, Cena's Hollywood star is on the rise after a decade and a half spent atop the WWE mountain. He's done his mandatory share of action films (The Marine, 12 Rounds) before showing off comedic chops in Sisters and Trainwreck. Later this year Cena will star in Doug Liman's war thriller The Wall as a soldier trapped by a sniper in a remote Iraqi desert.
But long before Cena hosted award shows and SNL, he was a young bodybuilder who took up pro wrestling under the name "The Prototype." Combining his natural charisma with his incredible, inhuman physique, Cena took on the persona of a cyborg killing machine. Cena's early success made him a hot young talent for the WWE to scoop up.
A quick look at John Cena today should be enough to convince anyone he's more than capable of playing a real-life comic book anti-hero, especially one created by Rob Liefeld, who was and is notorious for giving his comic creations over-exaggerated, masculine features. Brosnan is no slouch, but it's tough to pass on Cena whose physical feats are nothing short of impressive. Seriously, the guy is a living Liefeld creation.
Holding back Cena as Cable is that, at age 39, his boyish features still make him a little young to play Cable, who is often illustrated as sort of advanced in age. But a little thing called special effects was enough to de-age Princess Leia in Rogue One, or even turn Ryan Reynolds into a haunting husk of meat. It should be no problem to hand Cena some white hair dye and fake wrinkles.
Cena, who plays a superhero to a lot of kids in the WWE fandom, has yet to step into the boots of an actual superhero on the big screen. He's a popular choice for Captain Marvel opposite his former WWE rival Dwayne "The Rock" Johnson, who will be Black Adam in DC's Shazam. But there's no rule forbidding Cena from playing multiple comic heroes — if there was, Ryan Reynolds destroyed it — and Cena just looks born, or created, to play Cable.