John Cena Goes Bananas on SNL's Alabama Football Sketch
The skit featured plenty of brains, brawn, and of course bananas.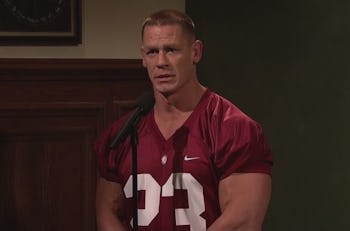 SNL
John Cena hosted Saturday Night Live, and it's not much of a surprise that many of the pro-wrestler's skits are centered around his biggest asset: his incredible physique. Cena delivered his monologue amid cast members' attempts to take him down WWE-style, which was followed by a Karate Kid parody. He also played the muscular, hunky host of the Hook-a-Hunk dating show. But he dazzled viewers when he donned a crimson red Alabama football jersey. Cena played a stereotypical dumb jock who just wanted to earn a passing grade on his science presentation in order to play in the big game.
In the skit, Cena's character is the star of the football team. It's evident that the fate of the game could rest on whether or not he plays. However, the only thing standing between Cena and the playing field is the daunting task of not only passing, but earning an A+ on his final science exam.
He has nothing to worry about of course, as his coach and a trio of professors are going to ensure he makes the grade and practice on time. While other students designed elaborate experiments, like particle accelerators and cloud chambers, Cena and his project — which featured bananas nailed to plywood — stole the show.
Sporting his No. 23 jersey, Cena tackles athlete favoritism with a hilarious skit highlighting the issue of how much academic pressure universities with big time (and high-dollar) football programs, put on their student athletes. Judging by the skit, it's not a whole lot.
"Don't you expect any favors from us," Kenan Thompson's character — a professor who is wearing facepaint in support of Cena's presentation — tries to insist, as the professors thank Cena for his autograph before fawning over his ridiculous banana experiment.
So what can Cena teach us about bananas? For starters, he states that "Bananners are a yellow snack that monkeys eat." He then explains that he used to hate bananas because they resemble boy's wieners, but has changed his mind because they are yummy.
However, we're still not entirely sure he fully grasps what a banana is, as one of the five specimens featured in his experiment is actually an orange. When one of the other students tries to point this out, the professors retort, "Are you trying to make us lose the game, nerd?"
Cena ultimately earns his A+, and as long as he can deliver a thorough report on A Very Hungry Caterpillar for his English Lit final, that national championship is in the bag. Roll tide, roll.