Peter Thiel Thinks Elon Musk and Donald Trump Are a Lot Alike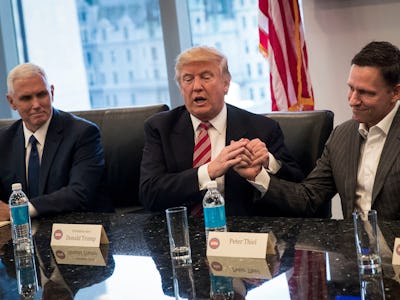 Getty Images / Drew Angerer
Elon Musk and Peter Thiel have an interesting, complicated relationship. The two tech tycoons used to be close friends when they co-founded PayPal in 1998, but these days, Thiel has a new bestie: President-elect Donald Trump. But in an interview this week with the New York Times, Thiel said the two men might be more alike than they are different.
"I'm going to get in trouble, but they are [similar], actually," Thiel told the Times's Maureen Dowd. "They're both grandmaster-level salespeople and these very much larger-than-life figures."
Sure, it's true that both men have, at one point in their lives, probably been billionaires (Musk definitely has, but no one really knows about Trump, as he's a pathological liar who won't release his tax returns and has filed for bankruptcy six times). Thiel and Musk actually agree on a lot of things, but at some point in their relationship, their vision for the future split, like Magneto and Professor X (Trump is Apocalypse). Thiel doesn't seem to believe in much more than his selfish desires to become an immortal god-king.
"Why is everyone else so indifferent about their mortality?" he told Dowd, when she asked him about Silicon Valley's obsession with immortality and his support of parabiosis, the controversial plan to give people over 35 transfusions of teenagers' blood. Thiel has told Inc. he finds it "really interesting."
Thiel's rampant libertarianism sets him apart from the rest of Silicon Valley, where Musk has risen as a Christlike figure, surrounded by disciples with engineering degrees who drive his electric cars and launch his rockets. In the last five years or so, Musk has managed to cloak the capitalism that built him behind such a thick veneer of Good Samaritanism that he seems diametrically opposed to the unabashed chaos and corruption that Trump represents, with Thiel's full endorsement.
Musk also has a track record of, for the most part, actually building successful companies, whereas Trump's success is tougher to pin down. For example, his current business appears to be selling Trump branding to condo developers, while the popular misconception is that his company actually builds the high rises.
Musk has publicly expressed his doubts about Trump in the most milquetoast way possible, but since the election, he has shown no qualms about signing on to an advisory position and sitting down with Trump's white nationalist senior counselor Steve Bannon.
There's really no downside for either party in a Trump-Musk relationship. Musk's armor of idealistic goodwill is probably thick enough to sustain some contact with the President-elect, and having the ear of a president who may be surprisingly conducive to private space exploration can't hurt his company. Musk's environmental activism at Tesla and Solar City is too tender-footed to ever make him a real symbol of resistance, but we can only hope that his trips to Trump's golden tower will eventually help convince the President-elect that climate change is in nobody's self-interest.