Kevin Smith's 'Supergirl' Will Be One to Watch Out For
The writer of the unmade 'Superman Lives' is the perfect choice for Supergirl.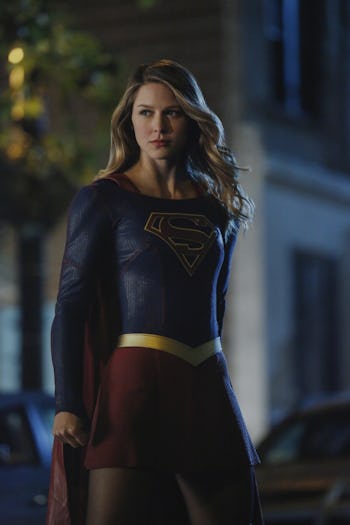 The CW
Season 2 of Supergirl, starring Melissa Benoist as the Girl of Steel, will return to the CW on January 23 in an episode, titled "Supergirl Lives" where Supergirl investigates a human trafficking ring hidden in National City. After a charming but troublesome freshman year, the show's second season has been celebrated, in particular for its timely themes of xenopbobia and the emotional coming out arc for Kara's sister Alex Danvers (Chyler Leigh).
But "Supergirl Lives" in particular will be notable for the slacker auteur behind the camera: Kevin Smith, the disgraced Hollywood director who has finally found a niche directing episodes of DC's TV universe. After his work on The Flash Season 2 episode "The Runaway Dinosaur", Smith returned to the director's chair in "Killer Frost" and will venture to Supergirl, where he'll complete a journey more than 20 years in the making.
Back in the mid-'90s after the success of his debut feature Clerks, Smith was a hot commodity and was roped in by Warner Bros. to write a script for a new Superman movie, which he titled Superman Lives. Mostly inspired by the 1992 comic The Death of Superman — which coincidentally won't die because it was also the blueprint for Batman v Superman — the project fell apart after a series of a dead end pre-production, all of which was explored in the documentary The Death of "Superman Lives": What Happened? from 2015.
Smith himself first told the story in signature, uniquely convoluted fashion in his 2002 special An Evening with Kevin Smith.
It's no coincidence "Supergirl Lives" is the title of Smith's episode, even if it won't emulate Superman Lives in plot, thank god (Smith's script notoriously had bizarre requirements from its producer, such as giant spider, and Superman, who wore all black, couldn't fly). Still, Smith has proved with his stellar work on The Flash that he is most suited to 40-minute genre stories, and since it's primetime TV, there's only so much Smith could actually fuck up. "That's what they do over at that fucking Berlanti-verse," Smith gushed on his podcast Fatman on Batman. "They make magic."
In the synopsis of "Supergirl Lives," which Smith calls a "big, big episode," Kara pursues a missing persons case despite orders from her editor Snapper Carr (Ian Gomez) not to. Her nosiness will lead her to an alien trafficking ring, through a portal hidden in National City that leads to the distant planet Slaver's Moon (sounds fun) and the return of Roulette (Dichen Lachman).
While Tyler Hoechlin, who appeared as Superman last fall on Supergirl, isn't signed on for the episode, but Smith is gushing at the prospect of maybe one day directing the Last Son of Krypton. Smith wasn't going to direct Superman Lives all those years ago — Tim Burton signed a $5 million pay or play contract for the gig — but the forever fanboy would still take the opportunity. "You know how fucking mind bending this is for me?" Smith said on his podcast. "To be able to work on the show where it's like 'Go direct Superman.' Come on, man. I owe Andrew Kreisberg the sloppiest fucking blowjob ever committed to a dick in history."
Anyway, after a string of duds doing shlock indie horrors like Red State, Tusk, and Yoga Hosers, Smith has finally found a specialty in superhero TV. Both "The Runaway Dinosaur" and "Killer Frost" from The Flash were crazy as hell, and even if Supergirl won't fight a giant spider, there's precedent that she'll still soar when she returns, if not because of Benoist and the rest of that stellar ensemble cast, but because Smith actually knows what he's doing.
Supergirl lives on the CW and will return on January 23.