'The Flash' Could Bring Gen-X Superhero Kevin Smith Into Battle
The big superhero team-up isn't 'Batman v. Superman.' It'll be 'The Flash' and its director.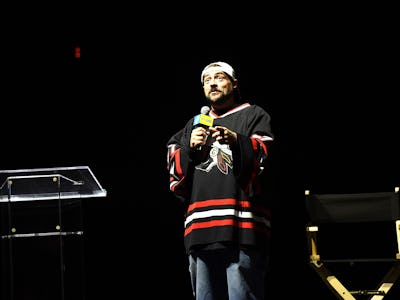 Getty
Kevin Smith will direct an upcoming upcoming episode of The Flash. Not the movie, but the highest-rated show on the youth-skewing The CW. Why is the movie director responsible for the nineties slacker thinkpiece and Jason Lee's career plotting his way to the small screen? Because he's a fan and because he can.
Kevin Smith remains a brand name in geekdom largely because he lets his fandoms be known. He cried during The Flash's season finale and proceeded to advertise that fact in a way most men wouldn't have.
But it's anomalous for Smith to tackle material so removed from his generation. As a filmmaker, Smith's best works have been gen-X anthems: Clerks, Mallrats, Chasing Amy, and Dogma tackled the nineties in a way that doesn't match with BuzzFeed's rosy nostalgia. Smith rebelled against indie film of the era with pop culture-obsessed kidults from middle-class suburbia, not urban bohemia, terrified of a world with nothing to offer them.
As Smith entered the 2000s, he became part of the ruling class his films always derided as morally directionless. He made Jersey Girl and tried to ride the Apatow wave with Zack and Miri Make a Porno. But it wasn't for him. Red State and Tusk are testaments to his continued weirdness and desire to make his own shit.
Smith is also all in on podcasting. This has given him a younger audience — to an extent. The themes and rhetorical touchpoints sometimes feel aged. Importantly though, it's an easygoing medium and Smith does that well. He's a chill guy.
And, as far as superhero shows go, Flash is pretty chill too. It doesn't purport to be more than it is. Its aesthetic isn't "Hockey Jersey-chic," but it's not too far off.
So what's in store for Kevin Smith and his fleet-footed hero? A bit of a push and pull between the CW's brand of optimism and Smith brand of Garden State realism, but also some serious press. Smith has been in involuntary exile from the mainstream, but The Flash will provide him with a new audience. And he's been training. Smith is currently directing Yoga Hosers, a spin-off of Tusk and his thesis on generation-Y. Starring his and Johnny Depp's daughters as two teenage convenience store employees that battle an ancient army, Yoga Hosers is Clerks crossed with Army of Darkness for those who weren't able to watch either in theaters.
It sounds very dumb and watchable. That's not such a bad thing.
With Smith behind the camera, The Flash could become a weirder version of itself — a slightly less careful version. That would be good. For his part, Smith could become a more relevant version of himself. This might be the last chance for the pre-Hardwick comic nerd prophet to take his people into the promised land. Or maybe they're already there and he doesn't make it out of the desert. Maybe he needs a hero to save him.