Wendy's Quickly Deletes Tweeted Pepe the Frog Meme
The fast food chain has since explained its decision.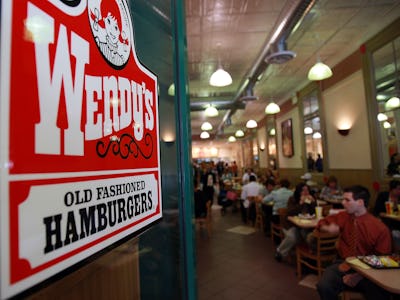 Getty Images / Spencer Platt
Fast food chain Wendy's has come under some internet fire on Wednesday after tweeting a picture of the now-infamous meme, Pepe the Frog, and then quickly scrubbing the post. Once a popular anthropomorphic figure from the comic Boy's Club, Pepe the Frog was co-opted during the 2016 election by white nationalist groups and turned into one of the most polarizing memes ever to befoul the internet. That a major fast food chain like Wendy's, which prides itself on having better tweets "than anyone expects from a fast food joint," would have to delete its own version of the meme is a testament to how irredeemable Pepe has become.
The Pepe tweet came on the heels of a savage Twitter exchange between the Wendy's account and a troll who was accusing the fast food chain of being dishonest about the freshness of its meat, with Wendy's being the clear winner of the showdown. The exchange was even dramatized by CNN's Anderson Cooper for his "RidicuList" segment.
Perhaps inspired by its recent victory, Wendy's was emboldened enough to respond to a request for memes by responding with an edited image of Pepe the Frog, where he was given pale skin and red hair with pigtails to resemble the girl in the food chain's logo. Innocent enough — or at least it should have been.
Users on Twitter were quick to lash out at the sight of the image, which by now is perhaps among the most reviled on the internet. For better or worse, it seems, Pepe the Frog has become inseparable from white nationalists, and as a result is dead to everybody else. Wendy's for its part, rectified the error.
It's a strangely sad thing to witness, the transformation of a meme that used to be lighthearted and ubiquitous into a racist hate symbol. White nationalists' newfound ownership of Pepe is unquestionable at this point, and anybody who hasn't yet should make their peace.
Meanwhile, people are also expressing their dissatisfaction with the company's decision to delete the meme. Seems like Wendy's just can't win in this situation.
All this drama just over a meme. Looks like 2017 is off to quite a start.