Lots of People are Getting Edibles for Christmas
Move over, gingerbread cookies.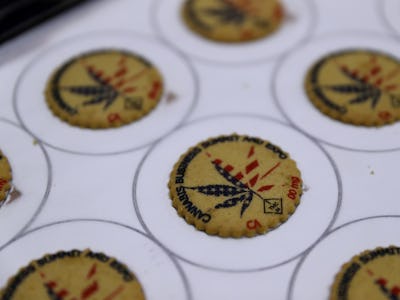 Getty Images / Justin Sullivan
Tired of making that same old gingerbread house every single year? Fed up with sugar cookies? Then maybe it's time to get baked on baked goods. This holiday season, that's exactly what a lot of people are doing.
Now that more and more states have legalized the use and possession of marijuana, people are capitalizing on new opportunities for the holidays. It's legal in eight states to give the gift of weed this season, and marijuana sales data indicates that this hasn't gone unnoticed.
According to data collected by Baker, a customer engagement platform for marijuana sellers, sales of edibles, as well as other weed products, dispensaries have seen a sharp increase in sales this past month. Numbers provided to Inverse from about 200 dispensaries in Arizona, California, Colorado, Nevada, New Mexico, Oregon, and Washington show that, in the week before Christmas, the average order size rose by 21 percent.
The average cost of a marijuana edible is about $15-20. People were spending more money on an extra device like a vape or an edible — perfect stocking stuffers for the weed enthusiast. And orders for packaged cannabis items specifically rose a whopping 133.33 percent the week leading up to Christmas. It's simple math to put the pieces together. Hell, if Jesus was still alive even probably be getting in on the green celebration.
It doesn't really come as a surprise that edibles are find their way onto peoples' gift lists this year. With advancing legalization comes increased cultural acceptance. Plus, after all the stressful holiday shopping and the minefield of family political differences have been navigated, kicking back with a good edible could be just the way to unwind and relax before the new year. Just please don't try to mail your 420 gift.