Holiday Pikachu Totally Evolves Into a Secret Holiday Raichu
No Thunder Stones needed – just take that Pikachu Candy out of your stocking!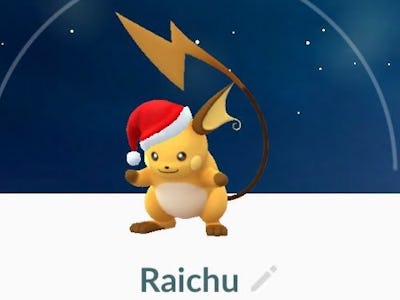 Just in time to count down the 12 PokéDays until Christmas, Niantic dropped a massive update to Pokémon GO — and there's one Pokémon that's way more festive than the rest. The holiday-themed Pikachu, it turns out, also evolves into an equally festive holiday Raichu.
So far the update allows you to hatch a Togepi or a Pichu by walking a ton, and the festive Pikachu are all over the wilds of your backyard, office, or home. Lucky hoarders who have Pikachu Candy to spare can evolve that Holiday Pikachu into the Holiday Raichu immediately upon capture.
This comes a week after initial tease about an impending Generation 2 update to the mobile phenomenon including Pokémon from Gold and Silver.
Historically, evolving a Pikachu is no small feat in Pokémon GO as Pikachu tend to be rather rare, and players need 50 Pikachu Candy to evolve it into Raichu. Players can assign Pikachu as a Buddy to earn an additional one Candy per kilometer walked, which helps, especially while you're busy hatching those eggs anyway. Catching a Pikachu will get you three Candy, and sending a Pikachu to the Professor will get you another single Candy. Between these methods, even new player could be hanging out with a Holiday Raichu with as few as 50km walked after catching a Holiday Pikachu! So you better strap on those running shoes and start pounding the pavement.
Fortunately, it also appears that Holiday Raichu can also indeed appear in the wild — no evolution needed:
You better hurry. The limited Holiday Pikachu — and his more evolved counterpart — will be returning to the North Pole on December 29, so be sure to catch them while you can.