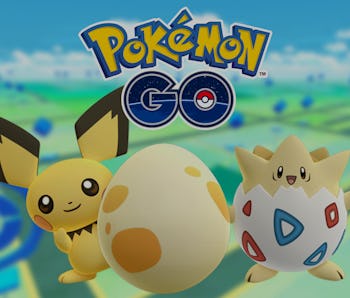 Gaming
How to Catch Pichu and Togepi in New 'Pokemon GO' Update
Start checking PokeStops, stat. 
Niantic
It's the season of giving in Pokémon GO as a new December update added Togepi, Pichu, a Christmas-themed Pikachu, and "select Pokémon" from 1999's Pokémon Gold and Pokémon Silver into the game. Here's how to catch 'em all before your friends do at the next holiday party.
Visit a PokéStop to acquire Eggs and hatch them by walking a predetermined distance, as you did this past summer. In the new update, Eggs have a chance to reveal a Togepi or a Pichu, two of the cutest Pokémon that debuted in way back on the GameBoy Color.
Niantic confirmed that more Pokémon — likely from Generation 2 — are coming, but it seems Trainers will have to discover them on their own. Niantic is encouraging trainers to share the new Pokémon they discover on social media with the hashtag #pokemongo.
Arriving with these Generation 2 additions is a festive Pikachu wearing a Santa hat, who will pop up "all over the world" during the holidays from December 12, 10 a.m. PST until December 29, 11 a.m. PST. Niantic says this special edition Pikachu will "appear in large quantities during this period."
The update doesn't include new features players have been asking for, such as trading and battling Pokémon, but this update is one of many to be rolled out during 2017. "The opportunity to hatch select Pokémon originally discovered in the Johto region is just the beginning of how more Pokémon will be added to the game for Trainers to continue their Pokémon GO adventures," says senior director of marketing at the Pokémon Company, J.C. Smith.
Remember to bundle up before you resume your Pokémon GO adventures. Not everyone lives in Alola.