How to Find the Festive Holiday Pikachu in 'Pokemon GO'
You don't have to hatch an egg to get this adorable monster.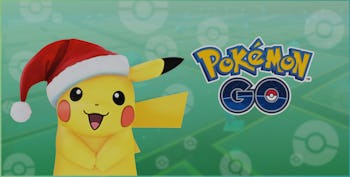 Niantic, Inc. 
Pikachu definitely still believes in Santa, and the new version of the classic yellow lightning Pokémon is all decked out in festive cheer, thanks to a huge update to Niantic's Pokémon GO.
Following the initial teaser released last week, Niantic and the Pokémon Company revealed all of the details regarding Pokémon GO's first major update since the game hit mobile devices earlier this year. Along with the introduction of some Generation 2 Pokémon like Togepi, Pichu, and a few others originally from Pokémon Gold and Pokémon Silver, the latest patch also introduces special-edition Pikachu who are wearing festive hats to celebrate the holidays to the game.
"We're looking forward to celebrating the season with our community by introducing a Pikachu wearing a festive hat, providing Trainers the opportunity to get out and explore their neighborhoods with friends and family as they gather for the holidays," said Kei Kawai, director of product at Niantic, Inc.
Unlike many of the other new Pokémon which come in eggs, you can catch the Holiday-Pikachu in the wild.
This new special edition holiday Pikachu will only be available between December 12 and December 29, however, which means you'll have the next few weeks to find one to add to your own personal collection while exploring your area. As far as we know, these new Pikachu aren't different from their normal counterparts who you've already caught in the past — they're just ridiculously adorable and perfect for spreading some Pokémon-themed holiday cheer this year.