9 Shows to Mindfuck You Out of 'Westworld' Withdrawals
What to watch after 'Westworld,' from 'Banshee' to 'Dollhouse' to 'Black Sails'.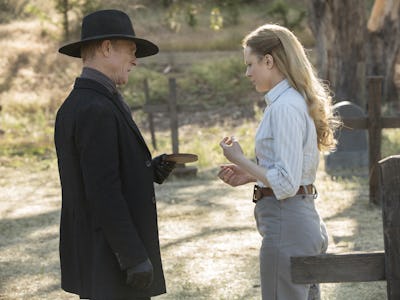 HBO 
During its first season, Westworld created a unique alchemy. Its mixture of sci-fi conspiracy story and Old West period piece combined two disparate genres into one addictive story. It was action packed and full of over-the-top moments like a snake-tattooed woman feeding a man his own finger and that naked horseback ride. Yet its Shakespeare quotes and musings on artificial intelligence provided a much needed balance to its shoot 'em up sequences and orgies.
Now that's it's over — and there's a long wait until Season 2 in 2018 — you might be feeling lost for what show to turn to next. From lesser-known prestige shows to old favorites or from sci-fi to period pieces, here are several that keep the story churning and will push you to question everything.
1. The Leftovers
Westworld understandably got a lot of comparisons to Lost. But while Lost leaves fans divided, its creator's current work The Leftovers is a true masterpiece. Like Westworld, it constantly keeps you guessing about the nature of its reality and your own. Instead of a maze, you'll wonder about whether magical hugs are real and what's up with characters dying yet not dying. This drama does not nearly get the attention and acclaim it deserves. Best of all, when the series ends in April, it will be a lean, complete three seasons.
2. Fringe
If the Delos conspiracy plotlines intrigued you the most in Westworld and you're not satisfied with the resolution of Elsie's sub-plot or the question of what park management really wants, revisit the old but excellent Fringe. Like Westworld, it also has a multilayered story that dips into multiple timelines and conspiracies.
3. Penny Dreadful
If you loved the parts of Westworld that were set in the park itself, try Penny Dreadful. Complete at three seasons, it's gloriously strange, lurid, and meandering. It features powerhouse acting and a plot that is often secondary, but it's atmospheric enough that it doesn't matter. Its dialogue is similar to Westworld at its most poetic, and one of its characters (Ethan) is even a gunslinging cowboy. Although it turns its eye to gothic London rather than the Old West, it travels to the West in its third season. Plus, if you were impressed with Westworld's gender dynamics with Maeve and Dolores, wait until you see Penny Dreadful's spin on the Bride of Frankenstein story.
4. Dollhouse
If you were most fascinated by the idea of the hosts and their constant re-branding, try the Westworld predecessor and spiritual cousin Dollhouse. Although the show is flawed and not among Joss Whedon's best, in many ways it was too soon for its time. Its worth a revisit in light of Westworld.
5. Justified
If you were most interested in characters like Teddy, William, and Logan as they navigated a lawless world and struggled with their own morality, turn to the excellent modern-day Western Justified. It is complete at six seasons, and it's a rare show that did not decline in quality as it went on.
6. Banshee
Although it contains no robots, Banshee is another modern-day Western that doesn't get the widespread attention it deserves. It deals with the same notions of morality William struggles with initially on Westworld, and it's a short four seasons to marathon.
7. The 100
Although its initial episodes seem like The Lord of The Flies meets The Hunger Games, The 100 quickly turns into a surprisingly subversive sci-fi epic. Like Westworld, the future it paints sometimes feels all-too plausible, and it displays a dog-eat-dog world where characters make their own laws. Its first three seasons are all on Netflix with a fourth coming in February.
8. Carnivale
Carnivale is another Westworld predecessor both in its network and aesthetic. But like Penny Dreadful, its mysteries lean more towards the mystical than the scientific. Unfortunately, its life was ended prematurely at just two seasons, and as a result, it feels slightly incomplete. Nevertheless, it's worth the perusal for its unique tone.
9. Black Sails
Another period piece that is criminally underrated, Black Sails is not set in the Old West but has a similar frontier vibe to Westworld's park scenes. It's set in the era when pirates ruled as a chaotic democracy in Nassau and struggled to maintain their power against the English rule. Dust and rebellion aren't its only Westworld similarities, either — it also handles gender and sex in a fascinating way. Best of all, its quality improves each season, and it will be a complete story after its fourth and final season airs in January.
Don't despair with the long wait for Westworld Season 2. Just use the time to familiarize yourself with these other violent delights and violent ends.