People Aren't Happy About Trump Being Named 'Time' Magazine's Person of the Year 
His influence is undeniable, even among reactions to his recognition.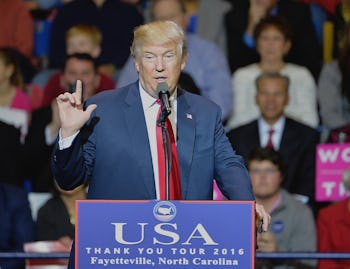 Getty Images / Sara D. Davis
On Wednesday, Time magazine revealed it's pick for person of the year: none other than President-elect Donald Trump. While people might not know what will happen to the United States under a Trump administration, there's no doubt that he's been on the majority of people's minds. Love him or hate him — it's almost certainly one of those since so few people occupy the middle these days — it's impossible to deny his influence.
Time explains, "For reminding America that demagoguery feeds on despair and that truth is only as powerful as the trust in those who speak it, for empowering a hidden electorate by mainstreaming its furies and live-streaming its fears, and for framing tomorrow's political culture by demolishing yesterdays, Donald Trump is TIME's 2016 Person of the Year."
Those words (depending on who you ask) aren't exactly full of praise. But they don't need to be when considering that the Person of the Year isn't always the poster child for human decency. Time is looking for influential people, not necessarily good ones.
Trump has yet to react to the news of his selection, but when he does his tune will likely have changed since 2013.
Trump was not featured on the list that year, a snub that was potentially the cause of his tweet. But now that he is featured, the internet has taken it as another opportunity to berate the president-elect and object to his classification as Person of the Year, a title that is sure to inflate his ego even more.
Many of the sentiments that burned in the hearts of liberals after Election Day seemed to resurface with this announcement. Echoes of #NotMyPresident can be found in reactions to Trump's status as the Person of the Year. There have been concerns voiced in recent months that receiving this kind of mainstream attention that doesn't present a significant challenge to Trump's ethos contributes to a larger trend of normalizing what were once, not so long ago, considered radical, extremist ideas.
When it comes to Time magazine, though, that argument is a hard sell. The publication's pick for Person of the Year, as well as the Time 100, is the result of a process that attempts to put a finger to the pulse of the global landscape. If that pulse is elevated, as one could say it has been since Trump's election, the most influential person is probably the one who caused that hypertension. In retrospect, it's strangely difficult to conceive of a time before the election, before Trump was dominating the news almost every day, and in that sense he's the obvious choice for Person of the Year. That being said, it's likely the last thing liberals want right now is yet another reminder of America's direction.
Still, even among the intensity of these reactions, some people haven't failed to find the lighter side.
Trump now sits amidst a storied group of 90 individuals that Time has featured over the years. Only time will tell where Trump's story, and America's, goes from here.