The Ultimate Post-Westworld Reading List 
Now that 'Westworld' is over, here's your ultimate reading list of books with the same vibe.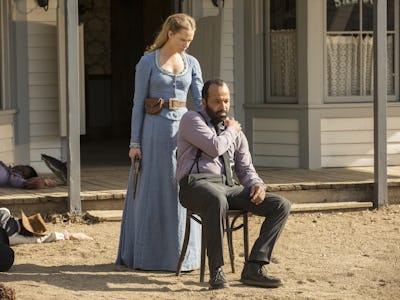 HBO 
The first season of HBO's Westworld has officially ended, and along with tying up a surprising amount of narrative lose ends, the show is closing the door on our weekly dose of Wild West infused science fiction. With its unique blend of futuristic conspiracy sci-fi and dusty period-piece fare, it blended two unlikely genres into an addictive combination.
But before you consider going into withdrawal until Season 2, don't worry: There are plenty of stories that capture a similar tone. Here's a breakdown of novels you could dive into.
Wild West Vibes
If you could take or leave the lab aspects of Delos, but you found yourself most enchanted by the park aesthetic — the stories of characters like William and Teddy having moral crises against a backdrop of horses, guns, and sprawling canyons — turn to one of these five modern-day Westerns.
Blood Meridian by Cormac McCarthy
City of Thieves by David Benioff
The Book of the Damned by Tanith Lee
The Gunslinger by Stephen King
The Secret Sharer by Joseph Conrad
McCarthy's Blood Meridian is a violently poetic classic, Stephen King's The Gunslinger and Tanith Lee's The Book of the Damned infuse magic into their frontier worlds, and David Benioff's City of Thieves writes a hell of a buddy-cop adventure. Conrad's short, enigmatic The Secret Sharer is about a man facing his inner demons that might or might not be real, just like Teddy and William do.
Robots and Questioning the Nature of Reality
If you were most attracted to characters like Maeve as she strove to discover and change the nature of her reality — or you were just plain fascinated by the hosts — try one of these five stories.
Never Let Me Go by Kazuo Ishiguro
The Sandman by E.T.A. Hoffmann
Kindred by Octavia Butler
The Mechanical (The Alchemy Awards) by Ian Tregillis
The Heart Goes Last by Margaret Atwood
The Sandman and The Mechanical deal overtly with android and automaton characters, while Never Let Me Go and The Heart Goes Last center around different kinds of conspiracy, manipulation, and artifice. Kindred is simply a damn good classic, centered around the sort of character typically marginalized in mainstream sci-fi. All stories feature characters just as lost and alienated as Westworld's hosts, and worlds in which all is not as it seems.
Conspiracies and Twists
If the corporate espionage aspect of the show enticed you — like Elsie or the board member Charlotte — and you liked the twist of Ford's endgame, try one of these five novels featuring twists, turns, and paranoia.
The Keep by Jennifer Egan
Measure for Measure by William Shakespeare
The Blind Assassin by Margaret Atwood
Shutter Island by Dennis Lehane
Mermaids in Paradise by Lydia Millet
The Blind Assassin and Shutter Island both feature the kinds of "holy shit" twist moments that Westworld has been bursting with, while The Keep and Mermaids in Paradise overflow with well-earned doses of paranoia and conspiracy. Shakespeare's Measure for Measure, on the other hand, is not as well known as his other works that Westworld has quoted, but as a problem play with a devious head-scratcher of an ending, its tone fits the show best of all.
Westworld Season 1 might be over, but your time in the maze-like mental state that engaging with it requires, doesn't have to end with it. Now bring yourself back online.