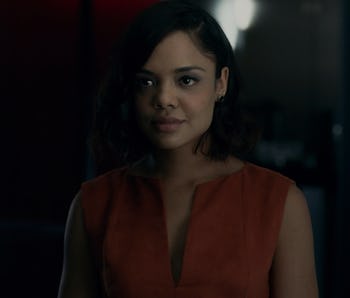 Entertainment
Who Is Fucking Over Whom in Corporate Westworld?
Post-"Trompe L'Oeil," here's a mid-season evaluation about where everyone stands. 
HBO
Westworld uses ever-changing power dynamics. With the recent reveal that Bernard is secretly a host and the board is conspiring to remove Ford, the story is now more of a conspiracy-laden byzantine mindfuck than ever. It can be difficult to keep track of who is scheming against who, who is succeeding in their scheming, and what everyone's goals are. As we approach the season's final stretch, armed with new revelations about the company's inner workings, let's evaluate.
Home base at the company
The more we see the employees of Delos — the programmers, the behavior technicians, the security guards — the more questions we have about how it operates. Elsie has previously acknowledged that Bernard has been working there "forever," but it seems awfully convenient that nobody noticed his lack of aging over the course of 30 years. Not to mention, it raises serious questions about the HR department at Delos. Does this mean there are more secret hosts besides Bernard? It's too early to tell, but let's dive into what we do know.
Small Scale:
Maeve is currently blackmailing the technicians Felix and Sylvester into following her every whim ("I'm getting out of here. You two are going to help me."). So far, that's included increasing her intelligence and letting her observe the inner workings of the main facility.
Big picture:
The fact that Maeve was able to achieve a sense of enlightenment and awakening without the mysterious maze — which has been touted as a place of enlightenment and awakening — means that it is possible her plot line could connect to the maze. Barring that, if the show follows the 1973 movie and veers into a conflict between the hosts and the guests, Maeve is currently in a position to emerge on top. She's got park employees on her side and knows more about the nature of her reality than any other host does. If the hosts revolt and look for a leader, Maeve is the best possible contender.
Who is fucking who?
In the seventh episode, we learn that the board wants full ownership of the host's minds. In that regard, by taking control of her own, Maeve is firmly fucking the board.
The board
The introduction of Charlotte Hale (Tessa Thompson) in the sixth episode was a game changer. We now have at least one concrete answer about one of the mysterious board's goals: to remove Ford and obtain the coding that allows the hosts to function.
Small Scale
Charlotte Hale is challenging the interpersonal office dynamics by knocking the obnoxious head of narrative Lee for a loop, as we saw in the sixth episode. As she demonstrated by removing poor Clementine from her loop, she also has power over the host's behavioral programming and longevity.
Large Scale:
Charlotte Hale is a powerful woman, but the board does not only comprise of one person. In "Trompe L'Oeil," before the reveal that Bernard is a host, we also learned about William's fiance (and Logan's sister) Julia, whose father owns the company where he works. In "Contrapasso," Logan says, "Who says this trip isn't work?" and "We're considering buying them out." The show has therefore implied that William and Logan have business ties to Westworld. If there are indeed multiple timelines as the show's logos suggest, it is entirely possible that Charlotte's fellow board members include an older version of William, his wife Julia (presuming he still marries her), or even Logan, presuming he survives his trip.
But barring that development, hosts like Teddy and Dolores might now be in danger of being co-opted just as Clementine was.
Who is fucking who?
Charlotte is fucking the more vulnerable hosts who don't question the nature of their reality: both on a literal level for Hector and a figurative level for poor Clementine. She is also fucking over lesser Delos employees like the insufferable Lee. But as we later learn, she is being fucked by Ford.
Ford
"Trompe L'Oeil" revealed that Ford is not only an eccentric genius who creates the hosts, nor just a visionary with delusions of grandeur. When he called himself the "god of this place" in the fourth episode, he meant it literally. He lords over life and death in the park to the extent where he creates his own employees and is unbothered by committing murder.
Small Scale
The reveal that Ford created Bernard raises the possibility that other Delos employees could be hosts. Considering the fact that Elsie and Stubbs (Luke Hemsworth) have had the most screen time after Bernard, they would be the most likely contenders. If Ford is making hosts off-book, he could even make one that resembles Theresa so that her disappearance does not raise eyebrows. Barring that development, Ford's willingness to murder Theresa spells doom for Elsie, who we haven't since a shadowy figure grabbed her in the sixth episode.
Large Scale:
Right before Ford orders Bernard to murder Theresa, he says about the board "they test me now and then. I enjoy the sport of it." He also tells her that the park was his and Arnold's dream. "Did you really think I would have you take it from me?" he asks. This indicates that if the conflict between the hosts and the board should escalate into violence, Ford could be on the host's side. In the immediate future, if Ford is this cavalier about the board's desires, it also raises the question of exactly what his his nefarious new narrative is truly for.
Who is fucking who?
Ford is fucking everyone at the moment except Maeve, and that's only because the show has not yet clarified whether he is aware of her rebellion.