The Trailer for Netflix's 'White Rabbit Project' is Here
Get ready for more science.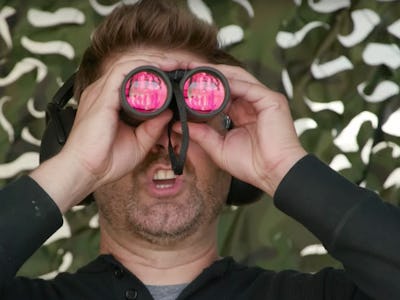 Netflix
MythBusters is being reincarnated as White Rabbit Project. The show will star three members of the MythBusters team, has the same producers, and will use similar wacky experiments to answer our questions about the world. The only thing missing is a love-hate relationship between the show's hosts.
White Rabbit Project will also have a slightly different angle than its predecessor. MythBusters was all about taking a popular conception — will diving underwater protect you from gunfire, for example, or can daddy long-legs venom kill a human? — and using science to see if they hold water. This new show will apparently focus more on things that definitely happened.
"The coolest tech. The weirdest weapons. The craziest escapes. Three science-loving sleuths put them under the microscope," Netflix explained on Monday alongside a promotional video for the upcoming series that premieres on December 9.
Familiar faces and MythBusters featured players Kari Byron, Tory Belleci, and Grant Imahara will rank "history's greatest inventions, heists, and more," Netflix teased on Monday. You can see exactly what the company means by putting things under the microscope in this new trailer:
Although it had a long, 14-season run, MythBusters came to a close this year with a special episode devoted to explosions. That was meant to be the show's legacy — blowing things up was a common feature of its experiments — but the TV-powers-that-be had something else in mind.
The Science Channel announced in March that it would create a new series called Search for the Next MythBusters to turn the series into a reality competition in which contestants would attempt to debunk various myths. It's basically the geeky version of Survivor with more millennials.
Then in September Netflix ordered a season of White Rabbit Project. (It couldn't nab the show's hosts, Jamie Hyneman and Adam Savage, perhaps because they didn't like each other very much.)