How to Become the Host of 'MythBusters'
This could be your claim to fame, since the Science Channel has just turned 'MythBusters' into a new franchise.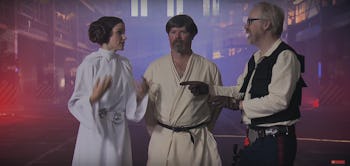 Discovery Channel via YouTube
Do you have serious "building skills? Willing to be embarrassed a "bit" on TV? Are you "naturally inquisitive," and "have the skills and knowledge" to put your scientific prowess "to the test"? Then, according to Marc Etkind, general manager of Science Channel, you may just have what it takes to be the next star of Discovery network's new reality competition series, Search for the Next MythBusters. The show follows the end of long-running, beloved precursor, MythBusters.
Proving that even hard science isn't immune to the influence of popular competition shows like The Voice, the premise of the Search for the Next MythBusters isn't all that new. Chosen by the strength of their submitted videos, 15 candidates will be challenged to debunk scientific myths — both classic and new. Each week, one will be eliminated until only a few lucky finalists remain.
Even more Voice-like, the Search for the New MythBusters's worldwide focus is emphatically on the young and hopeful, complete with social media and challenging stunts — what Etkind calls an "all-new generation of myth-busting science superstars with mind-blowing build skills and nerves of steel." Sounds more like the stuff of science-orientated Marvel superheroes to me. But this rather trendy move is unsurprising if you consider that the Science Channel just enjoyed its most-watched year in primetime, and that it's highest-rated quarter within the 18-49 demographic.
While MythBusters' original 14-season run featured hosts Adam Savage and Jamie Hyneman, Etkind is uncertain about the exact parameters of the new show: "We'll see who emerges victorious and from those folks determine what the best format is. It's a long-running goal for Science Channel to have MythBusters on the air."