'Mythbusters' Hosts Say They Just Weren't Right for Each Other
The popular Discovery series that blew things up in the pursuit of knowledge will go out with a bang.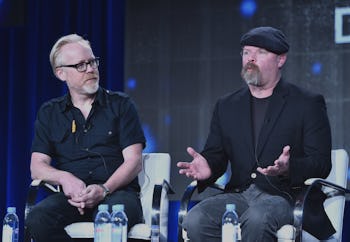 Getty Images
There's no debunking this, because it's just fact. MythBusters is ending.
In an interview with Entertainment Weekly published today, hosts Jamie Hyneman and Adam Savage said the Discovery channel series that proved or debunked scientific questions with live experiments and tons of explosions will be finished after this upcoming 14th season.
"We knew it at the beginning of 2015," Savage said. Production began this season knowing it would be the last. This season, by the way, featured a 60-ton train tanker crushed with a steam implosion and blowing up a cement truck sky-high with 10,000 pounds of ANFO. In other words, it's still MythBusters.
It's not quite over for the show just yet. Hyneman and Savage will embark on a MythBusters Live tour next month which is expected to be the last time the men will work with each other.
It's well-known that the two have never been on the best of terms. Savage told EW his co-host "was never interested in the storytelling" which "has been one of the primary sources of friction between us."
"I want to be as honest as possible about who I am and I like putting on costumes and [making the process entertaining]," he added. "Jamie doesn't give a shit about the camera."
In a separate interview with Hyneman, he said that making the show "can be frustrating to somebody like myself who's a purist for the engineering and not in it for a desire to be on television." In the same interview, Hyneman described himself as "a race horse attached to a freight wagon."
Despite the off-screen tension, the show was a ratings hit and cultural phenomenon that helped popularize science for a young audience.
"Other than embracing how much I've learned and grown in this process, the main thing I value is the show has had an impact on popular culture and science," Hynemann said. "We've seen thousands of people across the country and abroad. The kind of appreciation that's been expressed by people all over the place for what we've done, for encouraging them or their family or kids to be interested in science, is absolutely wonderful. I can't think of anything that would be more important than that."
MythBusters embarks on its final run on January 9. The Science Channel will air every episode ever in a marathon beginning December 23. The MythBusters Live tour, which has been branded as the farewell tour, begins November 13 in New Orleans.