What Will People Buy on Cyber Monday?
Televisions. Lots of televisions.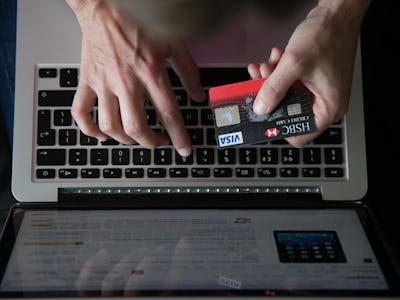 Getty Images / Matt Cardy
Cyber Monday is one of the busiest shopping days of the year. People around the world sit at their computers, pull out their credit cards, and enjoy the wonders of shopping from the comfort of their own homes instead of getting up at ungodly hours to brave the crowds that gather at brick-and-mortar stores for the holidays.
The question is what all those people are going to buy. Amazon said it sold more than 500 items per second in 2014, and Adobe Digital Index estimated that 2015 would be even busier, with a total of $3 billion spent on the consumerist holiday. Both also shared the best-sellers, and if the trends hold true for Cyber Monday 2016, chances are good that you or someone you know will buy one of these items. Some of them are the same items people used to fight over in stores on Black Friday, but others are better bought online.
TVs
It's the end of the year, which means retailers want to offload the television sets they already have in stock to make room for the next year's models. Better-than-HD 4K televisions are yesterday's news; companies are already working to make 8K a reality. The good news is that this means 4K TVs are cheaper than ever, so more people will be able to afford to buy a new set.
Smart toys
Amazon said last year that Anki's artificially intelligent toy cars were among its most popular items. Well, now Anki has released a small robot named Cozmo that started shipping in October, so it and other "smart" toys will probably be wrapped into lots of gift boxes.
Tablets
Adobe said that electronics make up the majority of holiday shopping. That's a broad category — TVs and smart toys both fit — but the company got more specific by saying that many people would buy tablets. As the iPad, Kindle Fire, and other popular tablets fall in price, more people will be able to buy these previously expensive products to give away like so much leftover turkey. This isn't the year to buy a new laptop, but there's never been a better time to purchase a new (or even first) tablet.
Video games
Gaming is always a big category on Cyber Monday. With new consoles like the PS4 Pro and the PS4 Slim (not to mention Nintendo's new NES Classic nostalgia machine) and the new Pokémon Sun and Moon this holiday season is likely to see even more gaming-related purchases.
Drones
Sphero's BB-8 was pegged as a hit by both Amazon and Adobe, even though it wasn't the droid people were looking for, and so were consumer drones. The release of new Star Wars drones and continued advancements in drone technologies will probably keep this trend alive, new federal regulations requiring drone licenses be damned.