Mini NES Classic Is Selling at a 14,000% Mark-Up on eBay Right Now
Or you could just be patient?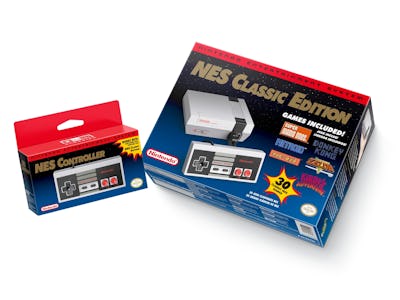 Business Wire
Nintendo's throwback NES Classic Edition came out at midnight on Friday, but it's already sold out pretty much everywhere. If you're thinking of buying one off eBay, though, your impatience is going to cost you.
The small retro gaming console retails for $60, but eBay prices are astronomical in comparison. Some consoles are listed in the $200 to $300 range, and one is even listed for $9,000. That's almost a 15,000 percent mark-up.
Nintendo sold a few units at midnight during a release event in New York City, but otherwise it's going to be hard to get your hands on one for a little while. Amazon, for example, hasn't offered pre-orders of the console, but will be offering a limited number for sale Friday at 5 p.m. Eastern Time. Target, another retailer listed by Nintendo, is only selling the console in stores (you can search and find out if it's in stock at stores near you). Best Buy lists the console as sold out and vaguely says it "may be available in stores," while GameStop lists it as unavailable online.
There are a lot of units on eBay over $1,000:
And there are plenty over $200:
Facebook Marketplace has heavily marked up units, too:
The gaming system is preloaded with 30 classic games, including The Legend of Zelda, Mario Bros., and Donkey Kong, and comes with one controller. An extra $10 will get you another controller, so for a mere $70 you can relive Nintendo's glorious early years with your brother, sister, or friends.
There's no word yet on exactly when Nintendo will be releasing more stock, just that they plan to make more available over the holiday season. So unless you're willing to pay a couple hundred dollars or more, you're unfortunately going to have to keep refreshing websites and crossing fingers.