Nintendo's New Miniature NES Is Just Precious
Just look at it and its cute little buttons!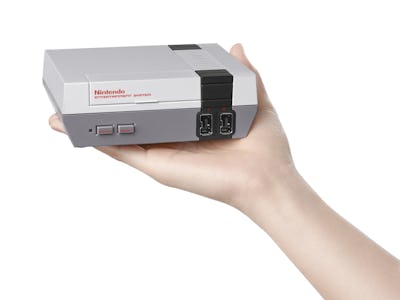 Business Wire
Nintendo lovers will hug nostalgia a little bit harder this holiday season with the announcement of the Nintendo Entertainment System: NES Classic Edition — or miNES, for short. Or maybe not that. Look, it's an iterative process, okay?
It's unclear what kind of innards the adorable new miniature home console includes, but it does come with 30 NES video games built into the box and an HDMI cable for a little high-definition The Legend of Zelda and Metroid action. There's also a spiffy recreation of the iconic NES controller included, and an additional controller can be purchased separately.
Nintendo's current console, the Wii U, launched in 2012 to a rather lackluster reception. The company's done little to change that perception despite popular releases like Splatoon and Super Mario Maker bucking the trend, and the console still retails for $300. The NX, the current name for the next iteration of Nintendo's home console, is on the horizon, though little is known about the system.
The tiny nostalgia-filled console that is set to launch on November 11 with an MSRP of $60, and an extra controller clocks in at $10. But really, who can put a price on childhood?
The full list of games cooked into the package are:
Castlevania II: Simon's Quest
Double Dragon II: The Revenge
Punch-Out!! Featuring Mr. Dream
Zelda II: The Adventure of Link