Watch This Incredibly Nostalgic Mini NES Commercial
Now you're playing with power (again).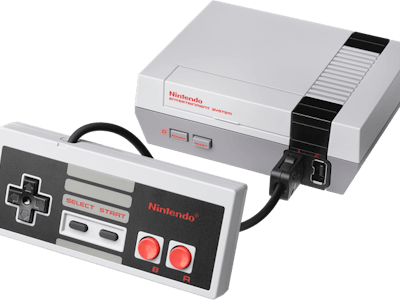 www.nintendo.com
This holiday season, Nintendo is betting big bucks that gamers across the world will happily dive back into the halcyon days of early gaming, when The Legend of Zelda's top-down gameplay was enough to blow your hair back. So confident is the game company, they're packaging the famous Nintendo Entertainment System into one package: the NES Classic Edition. Though it's not set to drop until November 11, the cute, little console got its very own retro commercial today.
Replete with the sweetest of laser-grid backgrounds and the spunky digital audio cues so beloved by the older generation of gamers, the commercial looks like something straight out of 1986, complete with Nintendo's now-archaic slogan: Now You're Playing with Power. Viewers are also given a quick glimpse at some of the titles that will be releasing as part of the NES Classic, and they're a solid mixture of the games that made the developer famous. Everything from Donkey Kong to Metroid is included in the Classic's $60 price tag.
Nintendo has recently been making big bucks off of its nostalgia-heavy release slate, and judging by the excitement surrounding the NES Classic Edition's planned November 11 release date, that doesn't look to change any time soon. In fact, one can only hope that the NES Classic is simply the first step on the path to releasing more classic games from Nintendo's vaunted stable.