Major Silicon Valley Players Are Staying Quiet About Trump's Win
Even those that talked a big game before the election.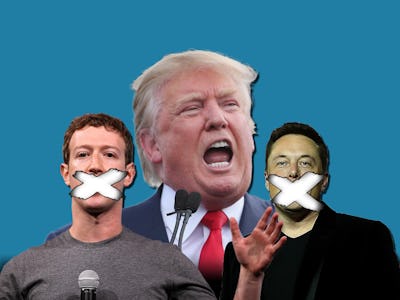 Getty Images
After his stunning victory on Tuesday, Donald J. Trump is the president-elect of the Unites States of America. It's a major event that's going to have countless, huge ramifications down the line — and in Silicon Valley that is no different. Some of the biggest players in tech spoke out against Trump during the election, but now that he's won, some of them have gone mute. Here's a roundup of some of the biggest names who haven't made a public statement, as well as a few who have.
Mark Zuckerberg, the creator and CEO of Facebook, hasn't posted anything public since Trump won. His most recent post was an uncaptioned photograph of an "I voted" sticker on Tuesday afternoon.
Zuckerberg's creation deserves some responsibility for Trump's victory, since he was undoubtedly helped by the social media site's fake news epidemic and the echo chamber it creates — though Facebook denies this. As for Zuck himself? He fired a vague shot at Trump in an April 2016 speech without mentioning him by name, but he'll probably be better remembered this election cycle for his defense of Facebook board member and Trump supporter Peter Thiel.
Elon Musk, the entrepreneur behind SpaceX and Telsa, was not a fan of Trump leading into the election. In an interview with CNBC the Friday before Election Day, Musk said he felt "a bit stronger that he is not the right guy," and said that Trump "doesn't seem to have the sort of character that reflects well on the United States." In March, he denied that SpaceX had given to the Trump campaign.
As of Wednesday night, Musk hasn't made any statements about the election himself, although he did retweet Glenn Greenwald to share an article about Trump's decision to pick a climate change skeptic to lead the EPA transition. It's worth noting that, while a lot of Silicon Valley tends not to be explicitly tied up in politics, SpaceX has government contracts with NASA, so Musk has more skin in the game.
Jeff Bezos, the CEO of Amazon, has long been an enemy of Trump because he owns The Washington Post which did some very good reporting on Trump throughout the campaign. In December Trump fired off a wave of irate tweets lambasting Bezos and the Post. Bezos responded by offering to send Trump to space on a Blue Origin rocket.
Bezos was less cute about his opposition to Trump in the following months, and in October he told a crowd at Vanity Fair's 2016 New Establishment Summit in San Francisco that Trump's behavior "erodes our democracy around the edges."
He has not, as of press time, said anything about sending Trump into a black hole now that he's won.
Tim Cook, the CEO of Apple, stayed pretty quiet throughout the campaign (though his name was, weirdly, floated as a possible VP pick for Clinton), and he continued to stay quiet on Wednesday after Trump won.
Mark Andreessen was a public supporter of Hillary Clinton, to the point where he scoffed when someone asked why he favored her over Trump, responding with "Is that a serious question?" In November of last year he got into a Twitter fight with Trump. He's been on a Twitter break since September, which might explain why he hasn't said anything public about Trump's win.
Some tech luminaries haven't been as quiet. Y Combinator president Sam Altman may have defended Peter Thiel as well, but he also launched public projects in an attempt to stop Trump. He was vocal on Twitter in the wee hours of Wednesday morning.
Chris Sacca also spoke out against Trump, but in a series of Tweets on Wednesday morning, he lamented Clinton's loss but suggested that at least attempting to work with Trump was Silicon Valley's best bet.
The co-founder of Reddit, the website where r/The_Donald lives, Alexis Ohanian, was also open on Twitter.
On the other side of the isle, though, is Oculus Rift founder Palmer Luckey. He pretty much went into hiding after people learned that he had been bankrolling pro-Trump shitposting. He still hasn't said anything now that Trump won.