Jeff Bezos and Blue Origin Make an Offer: 'I'll Send Donald Trump to Space'
Donald, this is a once-in-a-lifetime opportunity! Think about it!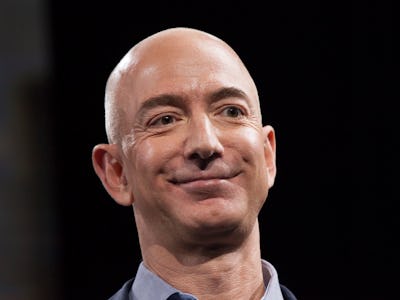 Getty
On Monday night, Jeff Bezos, best-known as the founder of Amazon, but also the force behind aerospace company Blue Origin and storied newspaper the Washington Post, saw the three come together around an unlikely foil: Donald Trump.
Trump, who you might have heard is running for president as the public id of a certain stripe of the Republican party, fired off several tweets on Monday that seem to be centered around his idea that the newspaper is "going out of its way to tell failing candidates how to beat Donald Trump."
"The Post doesn't get that I'm good at winning!" Trump reminded us.
Trump wrote, "The Washington Post, which loses a fortune, is owned by Jeff Bezos for purposes of keeping taxes down at his no profit company, Amazon."
And then: "The Washington Post loses money (a deduction) and gives owner Jeff Bezos power to screw public on low taxation of Amazon! Big tax shelter."
And finally: "If Amazon ever had to pay fair taxes, its stock would crash and it would crumble like a paper bag. The Washington Post scam is saving it!"
So, given Trump's shouting totally wrong stuff all the time, we won't get into the fact these are three unrelated companies and the fortunes of one does not save the other. Trump, who found early success on sketchy contracts and institutional racism should know what a bad deal looks like.
Bezos' Blue Origin recently launched a rocket into space that historically came back to earth. The scientists behind the mission jumped for joy.
In reaction to Trump's comments, Bezos could ban Trump for life from riding in his rocket. But no, Bezos took the high road, offering Trump the honor of being the first customer in his Blue Origin rocket — a once-in-a-lifetime opportunity!
Donald, will you take it?
If the hashtag Bezos included in his Twitter post — #sendDonaldtoSpace — is any indication, this idea is really picking up steam!