Elon Musk Denies SpaceX's Donald Trump Campaign Donation
... but inadvertently discloses both his own and SpaceX's other donations.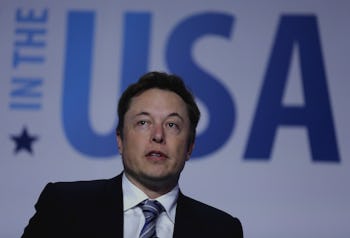 Getty Images
A Twitter user announced today to Elon Musk that he was "surprised/disappointed" to discover that SpaceX had donated $10,000 to Donald Trump's campaign. Musk responded within 15 minutes, saying: "SpaceX has not donated to any presidential campaign."
The original image shared in the confrontational tweet lists the Center for Responsive Politics as its source. A glance at the CRP's current list for top Trump donors does not list SpaceX. However, a cached version of the page from February 29 does.
A researcher at CRP tells Inverse that the listed contribution was "unfortunately incorrect" and due to a "matching error": another donor was somehow incorrectly listed as a SpaceX employee.
Musk's carefully worded statement — "SpaceX has not donated to any presidential campaign" (emphasis added) — is intriguing. As it turns out, Musk, SpaceX, and Tesla have donated lots of money to lots of people. For instance…
Here is a list of all Elon Musk's donations. The top two recipients are the National Republican Congressional Committee and the DNC Services Corp.
Here is a list of all SpaceX donations. Since 2004, the total figure exceeds $1,000,000. (The top recipient in 2013-2014 is Lindsey Graham, a Republican Senator from South Carolina. He received $17,900 from SpaceX.)
And here is a SpaceX political action committee, commonly known as a PAC.
Updated with comment from CRP at 3:23 p.m.