Was Palmer Luckey MIA at Oculus Event Due to Pro-Trump Shitposting?
The founder and former public face of the VR company was nowhere to be seen.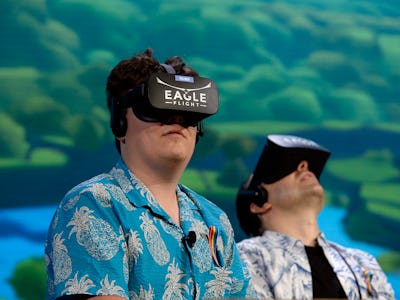 Getty Images / Kevork Djansezian
Pioneering virtual reality company Oculus unveiled a lot of really exciting new technology at its demonstration on Thursday, including VR video chatting, new avatars, and the long-awaited Oculus Touch controller. But throughout the whole event, one previously familiar face was missing: the company's founder, Palmer Luckey.
Perhaps he was absent because of recent revelations that the young near-billionaire was bankrolling a group of pro-Trump meme-creators who made "shitposts" supporting Donald Trump?
VR news site Upload VR asked Jason Rubin, head of content at Oculus, about it. He explained that "Palmer did not want to be a distraction. He decided not to attend."
Rubin also noted that the decision to sit out Thursday's big event was all Luckey's and "Palmer is still an employee at Oculus."
As The Daily Beast reported last month, the 24-year-old was funding an anti-Hillary Clinton group called Nimble America, and went by the username NimbleRichMan on Reddit's cesspool pro-Trump community, r/The_Donald. Some of Nimble America's shenanigans included erecting a billboard in Pittsburgh calling an oversized image of Clinton "too big to jail."
The group — and Luckey's support of it — seem more trollish than earnestly political, but whatever the motivation, the memes are promoting the election of perhaps the most openly racist presidential nominee since Andrew Jackson. (Or maybe Woodrow Wilson. Take your pick.)
Inverse reached out to Oculus's press office to ask why Luckey wasn't at Thursday's event, but there have been no responses yet. We'll update this post if we hear back.
Luckey has been the public face for Oculus — and even perhaps VR in general — appearing on a much-maligned TIME magazine cover:
It would make a certain amount of sense that Oculus — which is now owned by Facebook — wouldn't necessarily want to be publicly represented on such an important stage by a man who's essentially throwing his lot in with neo-Nazis by supporting a sexist, racist would-be dictator for the lulz, especially because the majority of the presentation was refreshingly diverse and inclusive by Silicon Valley standards.
An entire section of the event was devoted to the importance of diverse backgrounds, be they gender, race, or economic, and it genuinely seemed like it was more than just lip service.
"VR will only succeed if it reflects a diverse ecosystem," said Ebony Peay Ramirez, the company's head of diversity. "Diversity matters, not just in the storytellers lending their voices to the medium but to the audience as well."
"Can I hear it for the women in VR, please?" she later asked to a round of applause.
Oculus announced that it was committing $10 million towards diverse programs for VR, along with committing to the diverse filmmakers project, which supports "women and underrepresented groups" as they make a wide range of VR films.
It's a welcome message, especially since Silicon Valley is traditionally so, so bad at handling diversity and representation issues. Perhaps the appearance of Luckey, who has stayed under the radar ever since his status as a meme patron was revealed, wouldn't really have jived with the rest of Oculus's message.
The company certainly has already attempted to distance itself from its founder.
It must feel bad, man.
It's also quite hard to find his photo on both the Oculus website and its Facebook account, where it was once easy to spot. You won't find him in this keynote, of course, but you can watch the full thing below: