'Big Hero 6' Could Debut Evil Baymax for 'Kingdom Hearts 3'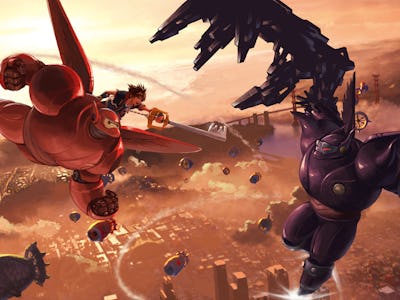 Twitter.com/slashflim
On a scale of 1 to 10, how satisfied are you with this fan theory? The upcoming Big Hero 6 TV series, which picks up after the events of the 2014 Oscar-winning film, could be where an evil Baymax debuts, setting up Square Enix's Kingdom Hearts 3.
Back in March, Disney announced a Big Hero 6 TV series in development, and it was last week when the majority of the film's voice cast signed on as series regulars. That news included insight into the synopsis, in which 14-year-old Hiro begins his academic career at San Fransokyo Institute of Technology while fighting crime as a superhero with his new friends.
Thing is, there's another follow-up to Big Hero 6 in the works, and it's happening in Kingdom Hearts 3. At D23 2015, the long-awaited installment to Square Enix's Final Fantasy/Disney crossover games announced it will feature the characters and settings of Big Hero 6. "The story will take place after the events of the film," said producer Roy Conli in the video announcement. "Not only will this allow us to explore all new adventures focused on great action, but we'll also get to see Baymax again."
Sadly, Baymax may not be the huggable balloon he once was, if theories surrounding the released concept art are correct.
In concept art from producer Shinji Hashimoto, Sora is seen wielding a Keyblade atop an armored Baymax while fighting another Baymax in black Heartless armor. There is speculation that the "Heartless Baymax" is the original Baymax that sacrificed itself at the end of Big Hero 6, floating without power in deep space.
The concept art indicates that the Heartless find Baymax's original body and use it as an avatar of evil.
There is still a lot to be revealed about both the TV series Big Hero 6 and its inclusion in Kingdom Hearts III, which has been anticipated by fans since the last game was released ten years ago.
Big Hero 6 is expected to premiere in January 2017.