Report: The iPhone 8 Could Have Wireless Charging
They could be coming in 2017.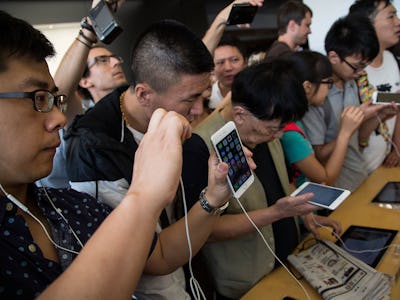 Getty Images / Lam Yik Fei
If you're still not sold on wireless AirPods, Apple might be releasing a feature soon that everyone can appreciate: wireless charging.
An unnamed source tells Nikkei that Apple is testing wireless charging technology now and the release of the product is slated for 2017.
The source says that Foxconn will incorporate charging modules into the phones but it's uncertain if all iPhones released in 2017 will have them. In January, there were rumors that Apple wants to introduce wireless charging by 2017. Apple has not confirmed if the reports are true.
This comes after Tai Jeng-wu, an executive at Foxconn Technology Group, announced at a graduation ceremony last week that the company is working on manufacturing OLED panels that provide a brighter display and are better and preserving battery life. Multiple fan sites have reported that the company is already testing the technology with MacBooks.
"We don't know whether Apple's OLED iPhones will be a hit, but if Apple doesn't walk down this path and transform itself, there will be no innovation. It is a crisis but it is also an opportunity," Jeng-wu said.
With the 10th anniversary of the iPhone quickly approaching it seems like Apple is putting many of its efforts into improving battery life. In October, Apple CEO Tim Cook told reporters that the company was investing in A.I. in order to "increase your battery life."
Of course, as with its new water-proof iPhones 7, Apple isn't reinventing the wheel with the potential new design. Samsung already has wireless charging, even if its phones seem more likely to catch on fire. According to researchers, the real future of wireless charging doesn't involve docks at all and instead will allow devices to be constantly charging from the energy around them. With sales of the phone on the decline for the first time since 2001, Apple is going to have to do something to win back consumers.
Inverse reached out to Apple for a comment on the rumors and we will update this story when they respond.