Apple CEO Tim Cook: Future iPhone A.I. Will Boost Battery Life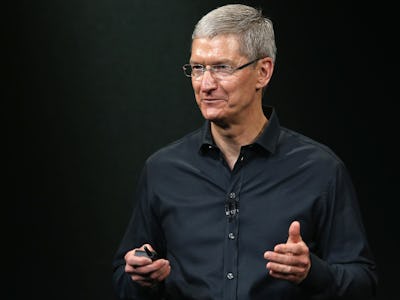 Getty Images / Justin Sullivan
Artificial intelligence will be used to one day improve your phone's battery life, Apple CEO Tim Cook has claimed. The head of the iPhone maker also said that he envisioned roles for A.I. in locating a user's car, and recommending Apple Music songs.
"We want the A.I. to increase your battery life," Cook told Nikkei in an interview published Monday.
It's not without precedent. A.I., as it turns out, can be quite good at reducing energy usage. In July, it was revealed that Google's DeepMind was able to make its data centers 40 percent more power efficient, a saving that could eventually help others as the company shares its center designs with others through the Open Compute Project. The A.I. would sometimes make decisions that seemed bizarre, only to find out later that they made sense.
It may take a computer's know-how to bring down energy use. Apple boosted battery life in this year's iPhone 7, but that was in part due to the removal of the headphone jack. As consumers demand more from their phones, a new approach has to be found somehow.
In the same interview, Cook hinted that he wanted Apple to bring about a cashless society, where people pay with mobile devices for goods and services. "We would like to be a catalyst for taking cash out of the system. We don't think the consumer particularly likes cash," he said. The Apple Pay system on iPhone, Mac and Apple Watch, received a boost last month, when support for Japan's FeliCa system debuted on the iPhone 7.
It's not clear when these improvements will reach consumers' hands, but Cook seems to think there's plenty of room to grow in the future. "We are not even teenagers yet. We just got going," he said, referring to the fact that the iPhone is only nine years old. "I think there is an incredible future ahead."