Marvel's 'The Defenders' Series Will Only Have 8 Episodes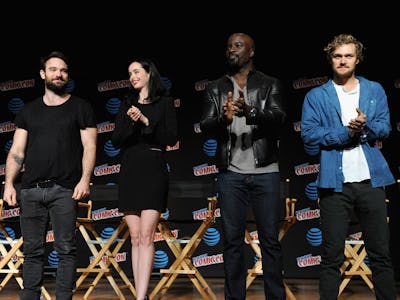 Getty Images / Craig Barritt
Daredevil, Jessica Jones, Luke Cage, and Iron Fist will team up in Marvel's crossover bonanza The Defenders sometime next year. The Netflix series is trimming down from Marvel's usual, hefty 13 episodes to only include eight.
In Marvel's announcement of Jessica Jones and Orange Is the New Black director S.J. Clarkson helming the first two episodes, the company revealed The Defenders will last just eight episodes. The trimming signals not only Marvel's awareness of the "mid-season slog" indicative of its Netflix offerings but a smarter economy of its growing list of ensemble characters.
The Defenders will star all four leads of Marvel's solo shows thus far, including supporting actors like Rosario Dawson and Sigourney Weaver as the main antagonist. Perhaps it's by necessity Marvel needs fewer episodes to accommodate all of its players.
There's also a known "slog" within Marvel's Netflix shows. In Jessica Jones, the show detoured in Episode 8, "AKA WWJD?" in which Krysten Ritter's hard-drinking P.I. spent the episode trying to help Kilgrave (David Tennant) redeem himself and use his powers for good. It was by necessity Jessica Jones tried to explore a redemption arc for its chief antagonist, but debatably, Kilgrave was too far gone, and it was practically telegraphed he could never change, so why bother?
In this fall's Luke Cage, the transition of power between its villains Cottonmouth (Mahershala Ali), Mariah (Alfre Woodard), and Diamondback (Erik LaRay Harvey) also slowed down the plot from its already slow start.
The Defenders will premiere sometime next year on Netflix.