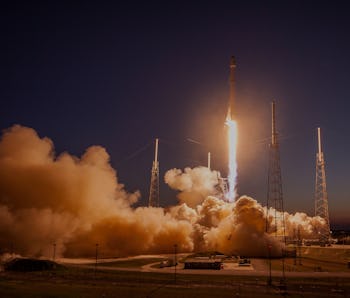 Science
How to Watch SpaceX Rocket Launches
Live-stream it, or watch it in person.
Getty Images / NASA
When the first SpaceX rocket lifts off to Mars, you can bet that a lot of us here on Earth will be watching. Any Mars-bound spacecraft is a few years out, and before SpaceX heads to Mars, there are a few more launches to get through.
Here's how you can watch, whenever Elon Musk decides to send more rockets into space:
Live Stream on YouTube
You can live-stream launches from SpaceX's website, and a whole host of other places, but they all lead back to the same place: SpaceX's YouTube channel. There, you'll find streams of launches and videos of all their past trips to space.
You can also keep refreshing spacex.com/webcast, which shows the same live feed as the official YouTube account.
NASA TV
If NASA is involved with the spacecraft in any way, whether it's the launch location or the cargo's destination, the launch will likely be streaming on NASA TV. Bonus: You can easily check out live views from the International Space Station when the launch gets delayed.
In Person
Take a vacation for a better view. SpaceX currently launches from three sunny and warm, coastal locations: Cape Canaveral and Kennedy Space Center, both in Florida, and Vandenberg Air Force Base in California. They're also building their own launch facility in South Texas. You'll have to watch from a couple miles away, but you'll still have a pretty amazing view.
Unfortunately, the explosion of a Falcon 9 rocket on one of SpaceX's Florida launch pads means we don't know when the next launch will be. The company has a NASA contract to deliver supplies, and eventually people, to the International Space Station in 2017, but a firm date hasn't been set.