The World's Best Rocket Launch Photographer Is 16
John Kraus takes rocket liftoff photos at Cape Canaveral Air Force Station.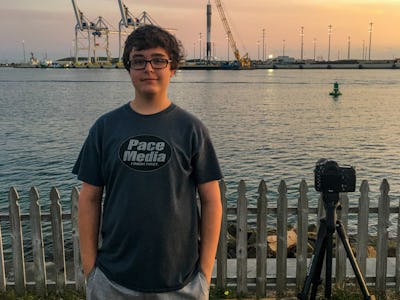 John Kraus
John Kraus made waves two weeks ago when his photo of a Delta IV rocket launch went viral. The shot (below) is stunning. Kraus, a 16-year-old from Satellite Beach, Florida, had taken a shot with budget equipment that rivaled the best. Inverse asked him about the job's most nerve-wracking moments.
How did you first get involved in rocket launch photography?
I started photography in January of 2015 when I randomly decided to buy a camera to pursue a new hobby. The SpaceX Falcon 9 launch about a month later, and as I grew up watching launches, I figured it'd be fun to document them.
How do photographers get those close up shots?
I shoot for AmericaSpace.com. Along with other members of the media, I'm granted access to the launchpads on Cape Canaveral Air Force Station to get an intimate view of whatever rocket is launching prior to liftoff. That's when we setup the remote cameras. The cameras are sound triggered as we can't be that close during the launch. We watch anywhere from 1.6 miles to just under four miles away.
Are you ever worried about leaving thousands of dollars worth of equipment next to a giant ball of flames?
I actually don't use expensive equipment for my remote shots. My remote camera photos are taken with a Nikon D3300, an 18-55mm kit lens, a Vela Pop sound trigger, and an old, beat up, metal tripod, and some grocery bags I use to protect the camera. If you buy used, you could probably assemble that kit for under or around $500. If any gear is damaged, it's not too expensive to replace.
Have you had any scary moments?
I haven't had any scary moments, although the wait from viewing the launch to getting my camera is often nerve-wracking. Unwrapping the camera and pressing the "play" button to see if there are any images of the launch is like Christmas morning. When I see that the last image on my camera doesn't have a rocket in it, I know that the camera probably worked. I then scroll through all the photos, and seeing the smoke from the launch is a huge relief, and ultimately, I see the one image I know is the best and smile.