This 16-Year-Old Perfectly Captured a Delta IV Rocket Launch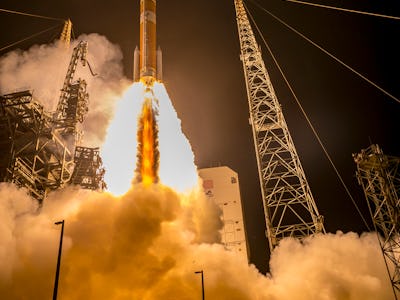 John Kraus/Instagram
United Launch Alliance (ULA) held its seventh launch of the year on Friday, and one photographer managed to capture a stunning shot of the Delta IV lifting off. Most impressive of all, the photographer was a 16-year-old using a budget-range DSLR camera.
"It was an incredible experience," John Kraus, the photographer behind the masterpiece, told Inverse. "The rocket jumped off the pad very quickly, lighting up the entire night sky. From where the media watched, about 1.5 miles away, the roar of the engines was enough to shake our chests."
The rocket, which lifted off from Florida's Cape Canaveral Air Force Station, was a Delta IV AFSPC-6 delivering two Geosynchronous Space Situational Awareness Program (GSSAP) satellites into orbit. The launch completes the four-satellite constellation, after the first two launched on an AFSPC-4 back in July 2014 and were declared operational in September 2015. The satellites will provide data that can enhance space safety, by giving a clearer picture of how best to avoid satellites and predict orbits.
Kraus has had his work featured in several outlets, including National Geographic and Wired. On Friday, he was providing coverage for news outlet AmericaSpace.
Kraus has access to the station's launch pads, and set up the Nikon D3300 with a Vela Pop sound trigger and an 18-55mm kit lens. It's a pretty affordable setup, which goes to show that when it comes to photography, location and access can sometimes make a world more difference than fancy glass. Even Kraus's rain protection method was simple yet effective: where many photographers set up their cameras in specially-made boxes, Kraus used a bag with a hole.
At the time of writing, Kraus's photo has nearly 5,000 upvotes on Reddit, with users describing it as "absolutely gorgeous" and "just so incredible and amazing."
Fortunately, although an impressive shot, Kraus was far away from the launchpad. "I watched from about a mile and a half away and it was one of the loudest launches I've witnessed," he explained on Reddit. "It's sure an awesome sight. Make it to Florida for a launch if you can."