SpaceX Has Picked a Historic Location to Refurbish Its Rockets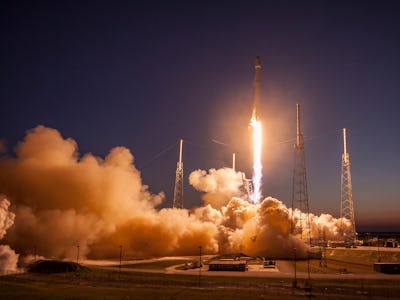 Getty Images / NASA
Port Canaveral, the adjacent property of legendary Cape Canaveral, will see a renaissance, thanks to SpaceX's investment in the property. The company will now lease the currently vacant building that used to house Spacehab, in addition to constructing a new second building once a formal lease is signed.
SpaceX's contract to build should be approved as early as next month, Chief Executive Officer John Murray tells Florida Today.
The locations will be used to refurbish and collect first-stage Falcon rockets that have been launched from Cape Canaveral.
The company's first Cape launch in 2015 was a complete disaster, but since then SpaceX has had eight successful missions in 2016 so far. It launched its first Falcon 9 rocket from the Cape Canaveral Air Force Station in June.
In March, SpaceX president Gwynne Shotwell said that recovering first-stage rocket boosters could reduce the cost of the Falcon 9 rocket up to 30 percent.
SpaceX already has two launch pads in the area, one at Cape Canaveral Air Force Station and one at the Kennedy Space Center.
NASA recently invested $32 million in the company's mission to send one of its capsules to Mars by 2018. However, Space News reported that would only be about 10 percent of the mission's $320 million cost. Alongside Boeing, SpaceX has also received more than $3 billion from NASA to develop shuttle technology to transport astronauts to the U.S. Space Station. SpaceX isn't just taking over NASA real estate, it's increasingly replacing NASA as a leading researcher and producer of space technology.
SpaceX will launch its next rocket from the Cape location on Sept. 3.