10 Batman Comics That Deserve an Animated Film 
With over 75 years of stories and counting, here are the best Batman stories waiting for the animated film treatment.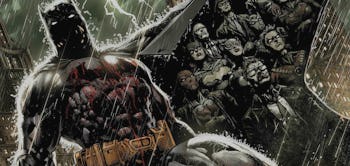 DC Comics
There's no such thing as too much Batman. The animated DC films have built a solid reputation for bringing the best arcs from comics to life, especially Batman's. Frank Miller's The Dark Knight Returns and Batman: Year One, Grant Morrison's Batman and Son, and Judd Winick's Under the Red Hood have all been translated to the screen.
And that's not including Batman in crossovers like Justice League: The New Frontier (based on the late Darwyn Cooke's tribute to the Golden Age), Justice League: The Flashpoint Paradox inspired by Geoff Johns's Flashpoint, or even the new Justice League Dark, based on the ensemble horror series from Peter Milligan.
And there are still so many great stories waiting to be told. After Adam West and Burt Ward's reprisal of their Dynamic Duo in Batman: Return of the Caped Crusaders, here are some great Batman arcs deserving of an animated version.
10. Gotham by Gaslight
One of the first and most popular Elseworlds titles, Gotham by Gaslight from Brian Augustyn and Hellboy creator Mike Mignola puts Batman in the Victorian era, hunting for the legendary Jack the Ripper who has arrived in Gotham City.
An exciting detective mystery with a cinematic gothic flair, as any Batman story should be, Gotham by Gaslight remains popular with fans and is practically begging to become an animated film. DC director Jay Oliva even admitted to Inverse that Gotham by Gaslight is on his personal wish-list.
9. Batman & Dracula
Less popular than Gotham by Gaslight but no less notorious is Batman & Dracula, where the Caped Crusader goes up against a serial murdering Dracula, patriarch to a family of vampires hiding in Gotham. The whole story is a trilogy of comics: Red Rain, Bloodstorm, and Crimson Mist, all released throughout the '90s, all varying degrees of good, bad, and bizarre.
Elements of Batman & Dracula was used in the 2005 TV film The Batman vs. Dracula, which was in continuity with the animated cartoon series The Batman. It was aimed at kids, which is fine, but who doesn't want to see a REAL fight between Batman and Dracula?
8. Batman: Death of the Family
Scott Snyder's celebrated run on the New 52 Batman reboot contained the epic 23-issue arc "Death of the Family," which introduced possibly the most twisted version of the Joker. Intent to destroy every member of Batman's extended family — the Robins, Batgirl, Red Hood, Gordon, Alfred, even Catwoman — "Death of the Family" was a classic monster thriller set in Batman's world.
Although it may be a bit big to condense in one 90-minute film, should the core idea of "Death of the Family" remain intact, it could easily become one of the best Batman films of all time.
7. Batman: Court of Owls/Night of the Owls
For generations the Court of Owls manipulated Gotham with unbelievable influence and deep pockets. A cabal of the city's most elite — we're talking the one-percent of the one-percent, here — were introduced as Batman's first enemies in Scott Snyder's New 52 run. The beginning "Court of Owls" arc is a psychological torture on the Dark Knight, while the climax was a one-night takeover of Gotham, spanning beyond Batman into other titles like Batgirl, Catwoman, Birds of Prey, and Nightwing.
Like "Death of the Family," the multi-authored "Night of the Owls" would be difficult to contain in one film, but the idea of the Batman Family stretched to their thinnest against husks fighting for Gotham's uber-elite would be a treat.
6. Batman: The Long Halloween
Jeph Loeb's Batman: The Long Halloween is frequently spoken with the same reverence given to The Dark Knight Returns and The Killing Joke that an animated adaptation surely has to be on someone's desk at DC. Published in 1996, The Long Halloween is another detective story featuring Batman in pursuit of a killer called Holiday, who claims victims once a month on Holidays.
Along with heaping influences of The Godfather and Silence of the Lambs, Loeb's The Long Halloween reset the gold standard for Batman comics after it. Its retelling of Two-Face's origin had a massive influence on Christopher Nolan, who incorporated it in The Dark Knight.
5. Batman: Endgame
Although ideally it would be great as a sequel to "Death of the Family," Snyder's second Joker arc "Endgame" has enough legs to stand on its own. Yeah, it's Batman versus the Joker again, but do you know how it begins? It's the Joker manipulating Batman's Justice League allies — even Superman! — via a new strain of toxin, controlling them to take down Batman. Batman brings out his biggest guns yet: the Justice Buster, a powerful suit of giant armor designed to take down the League should they go rogue. Which in "Endgame," is totally happening.
And that's just how it starts. Ending with the apparent "death" of both Batman and Joker, an Endgame movie could be a great finale on Batman to let DC pursue other characters in the meantime. Characters like…
4. Batman Incorporated (Jiro Osamu)
Published in 2010 prior to the New 52, Grant Morrison's Batman Incorporated sees Bruce Wayne publicly investing into Batman's activities, with plans to "franchise" crime-fighting. Thus, Batman sponsors Bat-like vigilantes around the world, one of them the under-used Batman of Japan, Jiro Osamu.
Criminally underused and appearing in just six issues of Batman Incorporated, Jiro Osamu — a mash-up of iconic animators Osamu Tezuka and Jiro Kuwata, who penned Batman manga during the 1966 TV show — Osamu was a whole different breed of Batman while homaging native Japanese superheroes like Kamen Rider 1 and Battle Kenya (from Battle Fever J). If moody and broody Batman is tiresome, why not a "Batman" in the style of a vintage '70s tokusatsu?
3. Batman: Eternal
An epic 52-issue series that celebrated Batman's 75th anniversary in 2014, Batman Eternal from multiple writers and artists was a grand tale that spanned across all of Batman's known history. Beginning with the arrest of Jim Gordon, Batman tries to prove the innocence of his most trusted ally, an endurance test that takes him all around Gotham City and beyond.
Like the aforementioned titles on this list, Batman Eternal is a huge story, but cutting the fatty parts down to the meat means a great piece of Batman animation awaits in this celebratory series.
2. Batman: Hush
Already teased by voice actors Kevin Conroy and Mark Hamill to be in the works, Batman: Hush is a modern classic in the Batman mythos that brought together Jeph Loeb with artist Jim Lee. The series introduced Dr. Tommy Elliot, also known as Hush, a childhood friend of Bruce who stalks Batman with mysterious purpose.
Although it sports an ensemble cast, including Batman allies Huntress, Superman, and even Supeman's dog Krypto, Hush is an intimate story of revenge on a side of Batman most of Gotham's rogues can't ever threaten: Bruce Wayne.
1. Batgirl: The Batgirl of Burnside
All right, maybe there is too much Batman. After making her first appearance in the DC films at the end of Batman: Bad Blood (in her new outfit from Brendan Fletcher and Cameron Stewart), Barbara Gordon deserves the spotlight in an adaptation of Batgirl: The Batgirl of Burnside.
Gail Simone's New 52 run that preceded Fletcher and Stewart's run is a personal favorite of mine, but The Batgirl of Burnside — a soft reboot where Barbara relocates to the trendy borough Burnside — isn't just accessible, it's also youthful and full of energy like any good animated movie should be. Batman can take a break: It's Batgirl's time.