Warner Brothers Is a Giant Drag, Drops Batgirl from 'Batman v Superman'
She'll appear on the DVD release, along with all the R-rated content no one asked for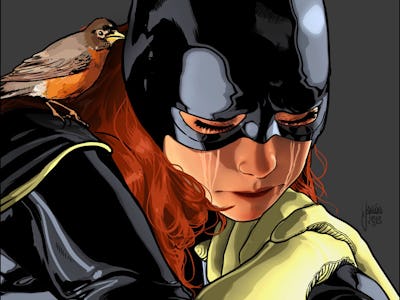 Bad news, DC fans. Entertainment Weekly mentioned in an article yesterday that Jena Malone, rumored to play either Batgirl/Oracle or Carrie Kelly's Robin, has been dropped from the theatrical release of Batman v Superman. If you want to catch Malone's mysterious character, or see Batman make enough jokes about pegging to merit an R-rating, you'll have to buy the film when it's released on DVD.
In a weird series of choices, Warner Bros. has opted to include a ton of extra content –– including Deadpool-inspired R-rated violence and minor characters –– on the Batman v Superman DVD, assumedly to avoid muddying the film's central concept in theaters. The company has also sent its stars out on stilted PR stunts conducted mostly in character, hoping to widen the appeal of Batman v Superman beyond moviegoers who like stern superhero films set mostly at night, forgettable villains, a token woman.
The loss of Jena Malone's character is especially disappointing, given how Batgirl might have filled out the DC cinematic universe. Her comics have been tremendous lately, and they feature several other Gotham-centric superheroes who would be exciting to see on screen, including Spoiler, Black Canary and Bluebird.
However, for those yearning for Batgirl's in the upcoming blockbuster, there's good news and bad news. The good news: those scenes will see the light of day, and fans can see the movie as Snyder intended someday. The bad: You'll be paying for it.