A Seemingly Desperate 'Batman v Superman' Is Now Trying to Be Funny
Superman and Batman are moody, but Henry Cavill and Ben Affleck are having fun in the film's latest social media videos.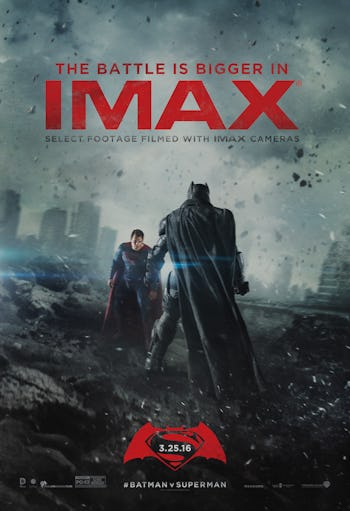 Warner Bros.
Even before the comedic superhero romp Deadpool took over every weekend box office, Zack Snyder's upcoming Batman v Superman: Dawn of Justice was shaping up to be the dourest, most angst-ridden, Edgar Allen Poe shopping at Hot Topic-est interpretation the genre has ever seen. The movie looks dark, literally, like Snyder directed during a power outage. On top of that there are hilarious lines like Batman telling Supes, "Do you bleed? YOU WILL." (Cue thunderstorms.)
The film's grittiness has turned off a lot of people, and with the film's release weekend right around the corner on March 25, Warner Bros. is allegedly sweating that Dawn of Justice could scare off moviegoers.
But maybe it won't, if these new Facebook videos can help. To benefit a charity, Dawn of Justice is holding a sweepstakes to send a lucky fan to the film's premiere in New York City along with some neat bonuses like a ride in the Batmobile with the Dark Knight himself, Ben Affleck. Unlike the film's tone, these videos are peak cute internet.
It all started last week with the unbelievably handsome Henry Cavill, who plays Superman, asking kids at a zoo — there are BABY ANIMALS in the background — a simple question: Who would win, Batman or Superman?
Hilariously, almost all of them chose Batman. (Also, the kid who tells Superman to punch Batman in the "peanuts" is a national treasure.)
Following that a few days later was Jesse Eisenberg (Lex Luthor) at Midtown Comics in New York asking comic geeks the same question. It's not as cute as Henry Cavill high fiving kids, but I pretty much live at Midtown Comics so I'm bummed I missed the chance to be in the clip.
Then, today came the pièce de résistance. Ben Affleck went on a joyride in the film's Batmobile, trolling tourists and letting kids ride shotgun.
Also, during Oscars weekend, Ben Affleck hit up Jimmy Kimmel Live! to provide a "deleted scene" from the movie. Yeah, it's a skit, but it's legitimately funny, with, like, three ace cameos.
It's not doing much to change anyone's mind that Dawn of Justice is an ultra-dark broodfest, but at least this movie is finally looking like its having some fun. There's still a few weeks until the premiere, so maybe Gal Gadot (Wonder Woman) will get in on the fun too. Fingers crossed they surround Jason Momoa with tiny puppies. I'd watch that for two and a half hours, easy.
Batman v Superman: Dawn of Justice premieres March 25.