How to Watch the Vice Presidential Debate on Your Phone
Kaine vs. Pence in the palm of your hand.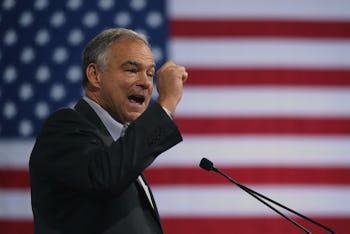 Getty Images / Justin Sullivan
Last week's presidential debate was not exactly fun to watch. But tonight's vice presidential debate between Virginia Senator Tim Kaine and Indiana Governor Mike Pence will likely feature a few more dad jokes among all the policy talk. (If not, just imagine Kaine as Teb from Galaxy Quest.) All the major networks will be showing the debate, but if you can't find your way to a TV at 9 p.m. ET, you still have options for tuning in.
YouTube
A lot of people turned to YouTube to watch the first presidential debate, and the same will likely be true for tonight's debate. Live streams will be available from a number of outlets, including PBS NewsHour, NBC News, and the Washington Post.
Facebook
ABC News will be streaming the debate live thanks to a special partnership with Facebook. Univision will also have a Facebook Live stream.
Twitter
Bloomberg Politics will feature a live stream on Twitter, complete with a stream of relevant tweets below, so you can see all the ways the internet finds a new way to describe how Kaine is a human sweater vest.
NPR
OK, so this isn't exactly watching the debate. But if you have things to do or you're traveling, NPR's app will have an audio stream of the debate.
News Apps
ABC, NBC, CBS, and Reuters will all have the debate streaming on their iOS and Android apps.
Virtual Reality
Just like the last debate, NBC and AltspaceVR are bringing the vice presidential debate to a virtual reality screen near you (if you happen to have a headset like the Samsung Gear VR).