How to Watch the Presidential Debate Tonight
It's going to be more of a dumpster fire than an informative civic exercise.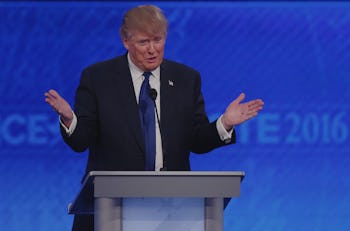 Getty Images / Joe Raedle
The first general election presidential debate is on Monday evening, and it's one you're probably going to want to watch. NBC's Lester Holt will be directing questions at the candidates on three topics: "achieving prosperity," "securing America," and "America's direction." The theatrics start at 9 p.m. Eastern and continue to 10:30 p.m., though different outlets will likely have plenty of analysis before and after the big event.
Here are all the ways you can watch the presidential debate tonight:
TV
Just about every news network you could imagine will be showing the debates. ABC, NBC, CBS, FOX, and all the cable news networks will be broadcasting the debate. For cord cutters, news apps will also feature the debate. Who knows, you might catch some ironically timed movie trailers.
Online
YouTube will have live streams from news outlets and commentators, including PBS, the Washington Post, and the Young Turks. The streams will also feature plenty of reminders to register to vote, with links to Google's voter registration tools.
The debate will also be streaming live on ABC News's Facebook page, and Twitter will be featuring a stream from Bloomberg Politics. Naturally, you can stream from your phone from any of these sources, too.
VR
Yep, VR. You can catch the debate on your Oculus, HTC Vive, or Samsung Gear VR headset thanks to AltspaceVR. It's designed to look like you're watching the debate on a virtual screen in NBC's "virtual democracy plaza" with other virtual people, because watching the debate on a real screen in front of you is so 2015.