How to Register to Vote Online in Every State that Allows It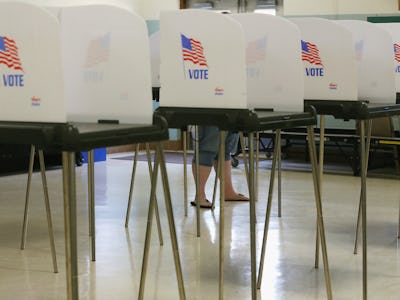 Getty Images / Mark Wilson
Today is National Voter Registration Day and if last night's debate motivated you to sign up to cast a ballot, you're in luck. There are a few ways to get registered in time for the general election between Donald Trump and Hillary Clinton on November 8, and plenty of places around the internet are making sure you know how.
But first, what information do you need to register to vote? The requirements are simple: you'll need to provide your name and address, your date of birth, and some sort of ID number (some states ask for a driver's license number, others ask for your social security number).
By Text
HelloVote will guide you through the registration process via text message. You can either give them your phone number on their website or text HELLO to 384-387 to get the ball rolling. They'll ask you a series of questions that are used to fill out either an online voter registration form that gets submitted for you, or a PDF form that is emailed to you so you can print it out. (Not all states allow online registration.)
Online
If you live in one of these 31 states in blue, or Washington, D.C., you can register to vote online.
Voting online may not be a reality yet, but in most states, registering online could not be easier. It's a simple online form that will take you just a minute to fill out.
In Person
There's still time to register the old-fashioned way, too. Some libraries and community centers are hosting events for National Voter Registration Day, or you can head over to your local county clerk's office or post office to pick up a form. You can also type in your information on this handy PDF and print it out to submit by mail.
Each state sets its own deadline for registering to vote — none of the deadlines have passed yet — but only a few states allow voters to register on election day. If you're an Oregonian that's been to the DMV for a new license or ID card in the last couple years, you're already registered.
Voter turnout in the primaries isn't a good indicator for turnout in the general election, but political scientists hope that turnout will at least be on par with the last few elections. Making it easier for voters to register makes it just a bit easier for them to show up at the polls on election day.