Your Phone's Emergency Alerts Could Soon Actually Be Useful
The NYC bombing suspect alert was the perfect illustration of what's wrong.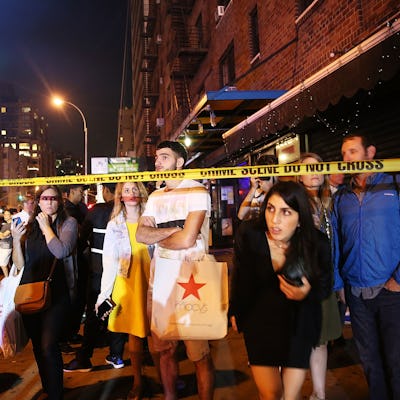 Getty Images / Spencer Platt
If a bomb exploding in Manhattan dumpster on a Saturday night didn't put New Yorkers on edge, the screeching alert they received on their phones the following Monday morning certainly did.
The alert popped up at 8 a.m. on September 19 with minimal info along with directions to "see media for pic" and to "call 9-1-1" if the suspect, Ahmad Khan Rahami, a 28-year-old male, was seen. At best it was inadequate, and at worst, it incited racial profiling. So, yeah, it was stupid and dangerous, but current laws don't allow for anything beyond that that stupid and dangerous thing. (We'll get to that in a minute.)
That alerts are usually sent out over a frequency reserved for emergency notifications like Amber alerts and flash flood warnings. But this was the first time the Federal Communications Commission's Wireless Emergency Alerts system was used to search for a terrorism suspect.
Conveniently, the FCC will discuss important upgrades to the alert system during its meeting on Thursday, that could make those alerts more substantial.
Here are the Proposed Changes:
The FCC is proposing an increased limit of 360 characters, along with the ability to include phone numbers and link to web pages. Alerts are currently sent out on roughly the county level, but another proposed rule change would allow alerts to be sent out to more precise geographic areas. The FCC also wants to create a new category of alerts, "action-oriented public safety alerts," that would be similar to the alert sent to New Yorkers. Dig in with this 64-page proposal.
Why You Get the Alerts (And How to Turn Them Off)
Motivated by Cold War caution, federal regulators first set up an emergency alert system back in the '50s that could warn the public of impending doom on TV or the radio. After cell phones became ubiquitous, the FCC added the wireless system in 2012. Cell phone carriers can opt-in to the program (if your carrier hasn't, they have to tell you), which allows the government to send out free messages capped at 90 characters about "imminent threats to safety," Amber alerts, and finally, alerts sent out by the president.
It's possible to turn off AMBER alerts (if you're a monster) and emergency alerts (who cares about floods?) in your phone's settings. But there's no switch to turn off presidential alerts, because you can't. (Food for thought this election.)
For New Yorkers who hadn't opted out of emergency alerts in their phone's settings, the September 19 alert was the perfect illustration of just what is wrong with the current system: Text character limits are too short to provide key pieces of information. (At 83 characters, it's a little more than half a tweet.) Without pictures or other media, alerts do more harm than good. The FCC has been aware of these problems for awhile — it suggested changes to the alert system last November.
How Wireless Carriers Will Adapt
The CTIA, an industry group representing wireless companies, is already gearing up for the change to messages with multimedia like images or videos. "The wireless industry is preparing a trial to determine if multimedia capabilities, like photos and videos, could be included in future alerts in a manner that does not cause harmful network congestion or technical issues," Brian Josef, CTIA's assistant vice president of regulatory affairs, tells Inverse. This is a shift from the organization's stance in January, when they told the FCC they opposed even adding links.
What's Next
FCC commissioners can't comment on upcoming proposals right before a meeting — the "sunshine period," a week before each FCC meeting — so we can't be exactly sure which way they'll be voting. All of the commissioners voted in favor of the proposed changes back in November, but commissioner Michael O'Rielly was concerned the changes would be too burdensome for carriers. The results of the comment period earlier this year may convince the commissioners that burden really is too big.
The meeting will be streaming live on Thursday at 10:30 a.m., and will cover the proposed alert changes, along with another vote on rules for cable boxes.
Something that is unfortunately not on the agenda: changing the terrifying alert noise that wakes you up out of a dead sleep.