The Emergency Alert System Could Be in for an Upgrade
Coming to an earthquake near you.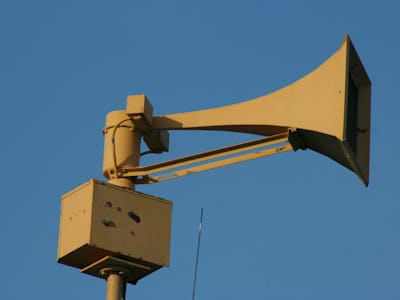 wikimedia commons
If researchers at the Applied Physics Laboratory at Johns Hopkins University get their way, your phone's ability to geolocate might be able to save your life.
They've developed ASLAT, or Arbitrary-Size Location-Aware Targeting, to replace the existing Wireless Emergency Alert technology that has been criticized for being imprecise and unnecessary. We've all got these instant-connection devices in our pockets already — we might as well be using them for saving our lives.
A report commissioned by the Department of Homeland Security and published in June details ASLAT's ability to use current and intended locations to loop smartphone users in on developing and current emergencies.
"[U]nder the Wireless Emergency Alerts (WEA) infrastructure, messages often go out very broadly, generating a large number of false alarms, while other people who are in the warning area do not receive those warnings due to poor cell coverage or a few other factors," Richard Waddell, ASLAT's program manager, said a news statement. (The report clarifies "other factors" as being when a user has opted out of receiving certain alerts, or is currently conducting a phone call.) "ASLAT dramatically reduces both false negatives and false positives."
Along with fine-tuning the precision of alerts, ASLAT will introduce "related targeting." This innovation is directed at users who "are in the vicinity of a target area and have interest in a particular location inside the target area."
In other words, when you've set a destination on your iPhone that is undergoing an emergency — say, a significant weather event — ASLAT will be able to make you aware of current trouble. Under the current arrangement, you wouldn't receive an alert because "[your] physical location is outside the selected broadcast area" at the time the alert is triggered.
The Homeland Security paper cites findings from a 2013 study that says that while blanket warnings under the current alert structure undermine the public's confidence through imprecision, more specific warnings using geolocation had a net positive effect in enhancing responsiveness.
The report also found that while the existing alert structure generates significant lag, "[ASLAT's] impact on the network load would be minimized," leading to less of a time break between an emergency's upload and its receipt.
Emre Gundzhan, the lead technical adviser on the project, told reporters that ASLAT's compatibility with numerous existing technologies was tested, including "Global Positioning System (GPS), mobile-device-based Time Of Arrivals (TOA) and Time Difference Of Arrivals (TDOA) techniques, as well as proximity to Wi-Fi." Those systems don't overload the network or intrude on the users' privacy. In times of emergency, gotta stay lean, eyes straight ahead.