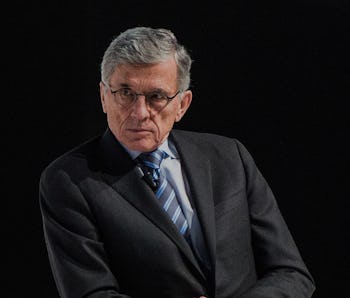 Innovation
The FCC Votes to Break Cable's Stranglehold on Set-Top Boxes
Cord cutters of America, your day has come.
Getty
The FCC approved today by a vote of three-to-two a proposal that will open the cable set-top box industry to third party providers and potentially save you a lot of money.
The proposal, announced by FCC Chairman Tom Wheeler in January, would require cable companies to open the cable box playing field: It would give third-party manufacturers the information needed to build competing devices. So, instead of paying Time Warner to watch its programming on a device you lease from the company, you'd be able to access Time Warner content on a Roku, or whatever game-changing device some genius is building in their garage right now.
The proposal now enters a comment period for businesses and consumers ahead of a final vote, and could be adopted by year's end.
Supporting commissioners argued that in an era where so many people get their videos online, such rules were outdated. Breaking the cable company stranglehold on boxes would encourage much needed innovation to an industry that has been resistant to change and increasingly expensive.
"While the cost of other technologies have fallen as competition increased, the cost of set-top box has risen at more than three times the rate of inflation for American paid-TV subscribers over that same period," FCC Commissioner Mignon Clyburn said in open commission meeting, which was live-streamed to the FCC website.
Commissioner Ajit Pai, who voted against the proposal, called it a "20th century approach to a 21st century problem" and predicted it would devolve into its own burdensome regulation. Rather than simply unlocking the box, as Wheeler has been promoting the proposal on Twitter under the hashtag #unlockthebox, Pai argued a better solution would be to "eliminate the box altogether."
Pai, who noted that there were few characters on television who looked like him besides Johnny Quest's Indian caricature, Hadji, or The Simpsons Apu ("voiced by well-known Indian Hank Azaria"), echoed the cable lobby's argument that the measure would undercut the few gains minorities have made on television. The cable lobby argues that the change would hurt minority stations because it would undermine agreements about programming rights and distribution, thereby devaluing minority content and how it's presented in the hands of a largely white (tech) industry. Alfred Liggins, CEO of TV One, and several Latino groups, are opposing the measure.
Wheeler responded that the proposal included no mandatory requirements that would keep consumers from using the set-up they have if that's what they prefer, and that the measure wasn't far from something that the industry itself floated in 2008.
"This is not complex," Wheeler said. "The law mandates it. Technology allows it. The industry at one time proposed something similar to it. And consumers deserve a break and a choice."