John Oliver Exposes Underfunded and Outdated 911 Call Centers 
Grandma may be in trouble.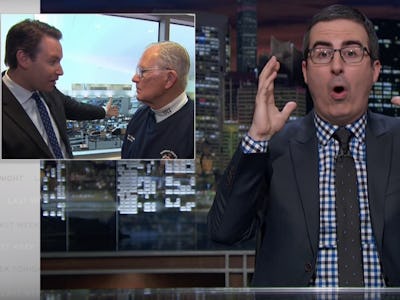 "9-1-1. We'll be there when you need us. Some restrictions apply. Actual response times may vary."
That's the disclosure at the end of John Oliver's recent takedown of dysfunction in the nation's 911 call centers on Last Week Tonight — it turns out that the emergency service is a lot less reliable than everyone has grown up thinking. Due to understaffed call centers working on decades-old technology, if you're lucky enough to get an operator on the phone during your emergency, there's no guarantee the first-responders will be able to find you with the same reliability as a Domino's pizza delivery.
"The problems for 911 call centers don't stop there. Depending on where you live, they may be understaffed, underfunded and full of outdated technology, which is fine if you're describing a RadioShack, but it's a little scary when you're describing a place that handles life and death situations," Oliver jokes.
With more than 70 percent of all 911 calls coming in from cell phones, it's vital that centers have the technology to nail down locations without requiring the caller to provide an address. But many only have the technology to estimate a target area, leading to extended searches for the caller, which can sometimes prove fatal. One report Oliver cites said improved tracking of callers could save more than 10,000 lives a year. The only issue is, even with new FCC guidelines, by 2021, call centers will only be able to pinpoint 4 out of 5 locations.
It's hardly the message we teach our kids about 911, and Rob Riggle, in the form of Fireman Bill, had a hard time explaining the realities of call centers to a group of kids.
"So if I call 911, will you come and help me," one kid asks.
"Well, I'm sure gonna try, sweetie, but I gotta be honest. If you're calling from a cellphone and you don't know your address, a lot of the time we're gonna struggle to find out exactly where you are."
Luckily, a call center operator was there to boost 911's credibility. "On the bright side, some states have pretty good statewide systems, like Maine."
"Hey, my grandma lives in Maine," one kids says. "Well, then she should be fine," the operator reassures.
"My grandma lives in Georgia," another kid adds. "Ooh, she is fucked."
It's a hard truth, but until our call centers improve, it's the dark reality.