Use These 8 iOS 10 Messages App Features First
There's still time to shock and awe your friends.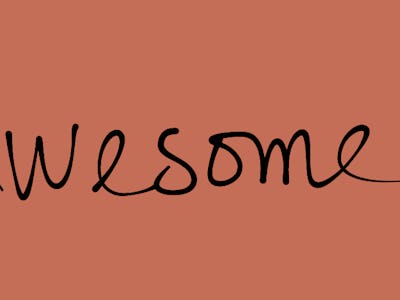 Now that you've installed iOS 10 on your iPhone, you've likely noticed some new features, especially in the Messages app. There's disappearing ink, a drawing tool, and loads of special effects. You probably have a few questions. So what better time than now to get acquainted with the coolest iOS 10 message features? Especially before your friends do.
Apple's iOS 10 release was the company's most significant departure from its core software in years. One design and release flaw in particular stood out until Tuesday: Messages on iPhone were not compatible with the Messages on a Mac computer, so anything interactive or innovative that Apple did for iOS appeared as mere text on a laptop. With macOS Sierra, that problem's been solved.
Back to the best new iOS 10 Message features: Some "innovations" are actually just direct ripoffs from other recently popular chat applications, like Slack, but that's the new normal for tech companies. And the fact that Apple crashed an existing market only means more competition, which will yield even better products and features. But you're not here for contextualization — you're here to wow your friends.
Without further ado, here are the eight best new Messages features, ranked. (Needless to say, you'll first need to install iOS 10, and the full experience will only be shared with other iOS 10 users.)
8. Landscape Draw Mode
This is a neat feature for when you want to add a bit more personality to a message, and it's actually something Jobs might've approved. When companies like Blackberry began to release phones with styluses, Jobs scoffed. He felt that fingers were far superior, far simpler, and would win out. So he created the iPhone. Four years after his 2011 death, Apple released the Apple Pencil — a stylus. But with this Messages landscape draw mode, Apple's returning to Jobs's preference: fingers over styli.
How: Turn off Portrait Orientation Lock. Open up Messages, then choose a conversation. Tilt your phone to landscape mode. Begin drawing, or choose from the set of pre-crafted options.
7. Digital Touch
This feature will catch your eye at first pass, but odds are low that you'll use it frequently. Digital touch enables you to send sketches that draw before the recipient's eyes (so long as they have iOS 10, that is), send "taps" that blossom before the recipient's eyes, and do the same for fireballs, kisses, heartbeats, and heartbreaks. It's kitschy, and probably won't be used too often. The one neat functionality is that you can use digital touch to draw as your record a video.
How: Open up Messages, then choose a conversation. Click the button with the heart and two fingers. Draw or tap on the black screen, or select the video camera icon to add Digital Touch effects before or after you record.
6. Photo Markup
This is a direct jab at Snapchat, which has, against big odds, established itself as a strong player in the messaging and social network game. Markup enables you to draw on photos, to add weird portal-esque circular windows that replicate zoomed parts of the image (just try it out; you'll understand), and to add text (including emojis). Where it improves upon Snapchat, however, is with the draw function. If you draw a relatively simple shape — a circle, a line, or a squiggle — and then select the shape, you'll see some controls pop up. If you drew a shape too complex, you won't get the shape cleanup option — but if you drew a shitty circle, Markup will offer to correct it for you. You can then resize and restructure the pretty circle, and, using the stroke thickness selector in the bottom right corner, change your shape's thickness.
How: Open up Messages, then choose a conversation. Click the camera icon, take a photo, and then click the resultant preview in your message box. A larger preview should appear. In the bottom left of the screen, click "Markup." The pen is selected by default, with the other two Markup options to its right.
5. Reactions
Reactions is a direct jab at Slack, which took over the media world with its playful-but-practical chat app, and at Facebook, which added its own Reactions feature in February. It allows you to react to your friends' messages, and messages you send yourself. You can add a heart, a thumbs up, a thumbs down, a haha, an exclamation point, or a question mark. It's like annotating texts. The only problem is that, unlike in Slack, multiple reactions to the same message (say, in a group chat) become indistinguishable; all are hidden behind the most recent reaction.
How: Messages, conversation. Hold your finger on a message to which you'd enjoy reacting. Pick your reaction. Voila.
4. Emojification
Emoji were redesigned iOS 10, and were placed on a pedestal. Emoji sent on their own, without text, show up big. And Apple now encourages users to replace words with emoji. Messages will highlight words that could be replaced, then suggest their symbolic replacements. It's great for playful texting, but bad for the English language.
How: Messages, conversation. Type a paragraph, especially one that references emotions or objects. Click the emoji keyboard. Watch a few chosen words glow orange. Click it and Messages will either replace the word with an emoji or give you some potential replacements from which to choose.
3. Bubble Effects
Hearing about these effects made them seem less cool than they actually are. When you go in and use them, ideally with close friends, the effects can add an additional layer of meaning to virtual conversations. "Bubble," of course, refers to the text bubble. You can choose from four options (for now): Slam, Loud, Gentle, or Invisible Ink. The invisible ink effect is by far the best of the bunch. It conceals text, photos, or GIFs until the recipient drags his finger across the message, then only reveals the contents for as long as it takes to read. The other effects add emphasis or reduce emphasis.
How: Type a message, or select a photo or GIF. Hold your finger on the blue up arrow, the one you'd hit to send the message. Swipe right to choose your bubble effect, then hit the blue up arrow from that screen.
2. Screen Effects
This is the one with real wow potential, and the one that your friends may not know about just yet. You can now send messages that animate your recipient's entire screen. The five options are Balloons, Confetti, Lasers, Fireworks, and Shooting Star, all of which are pretty entertaining. (Apple will likely release more and more of these screen and bubble effects with future updates.)
How: Do what you did to get to bubble effects, then click "Screen" instead of "Bubble" up top. Swipe right to see more options. Send effect. Say "wow."
1. External Media
The best feature is something that Apple should've incorporated long ago. Now, external media — links, tweets, videos, etc. — show up within your conversation. No longer will a YouTube link send you to the godforsaken Safari app; instead, it will play right within your exchange. So too with tweets and links, which offer previews. It's good, and very much overdue.
How: Copy a link to a tweet, video, or article. Paste it into a new message. Hit send. The preview will appear in the conversation.
Tip: Try sending media, like GIFs and photos, with the bubble effects. GIFs and photos in invisible ink can really make things interesting.