Instagram Shamelessly Copies Snapchat With New "Stories" Feature
The worst sort of copycat is a shameless copycat.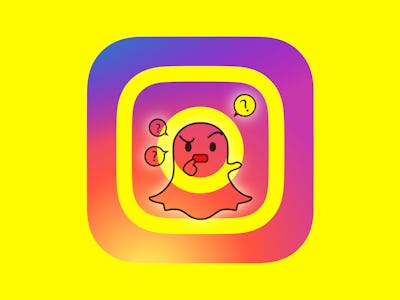 Snapchat / Wikimedia Commons / Photo Illustration
The worst sort of copycat is a shameless copycat: someone who reproduces another's innovation without permission and doesn't even blink. As of Tuesday, that's Instagram: the Facebook-owned photo-sharing app just rolled out a "new" feature, where "new" just means carbon copy of Snapchat. Instagram was so uncreative that they even copied the name of the feature. It's called — drumroll, please — Instagram Stories.
At some point in the "next few weeks," Instagram says, the feature will appear in your feed. If you're a Snapchat user already, there's actually nothing left to tell you. It's an exact replica of Snapchat's own, popular Stories feature. If you're not a Snapchat user already, we'll make this quick. Stories are ways to share images and video clips from your day. You can overlay text, emoji, bitmoji, and drawings.
What you share lasts no more than 24 hours. You can see a list of who's viewed your own story, and friends can message you if they feel so compelled. A quick tour of my own friends' Snapchat Stories includes food, landscapes, sunsets, and dogs. Cutesy, stupid, but entertaining stuff.
On Instagram, Stories will appear at the top of your feed. Friends who have shared stories will appear at the top of your feed in a row. Also, if a friend has shared a story, their profile photo will have a "colorful ring" around it when you visit their page.
The theory behind the blatant rip-off is at least sensible. Snapchat turned down a multibillion-dollar offer from Facebook a few years ago. Facebook owns Instagram, but Instagram's been in a slump of late. People seem to think that Instagram's become too good — in other words, that people are becoming less and less prone to share mediocre images because they'll feel inferior as humans and untalented as photographers. (Snapchat's popularity, meanwhile, continues to surge.) Since Story content is meant to be candid and disappears, there's less pressure to shoot and share photographic masterpieces.
To be fair, Snapchat itself has taken pages from its own competitors' books. And earlier this month, it released its own risky new feature. But it's never done anything this flagrant. Instagram: this is a low blow.
Update: A Snapchat representative had no comment on the feature.