Snapchat Users Watch 800 Hours of Content Every Second
And, surprisingly, very little of it is sexts.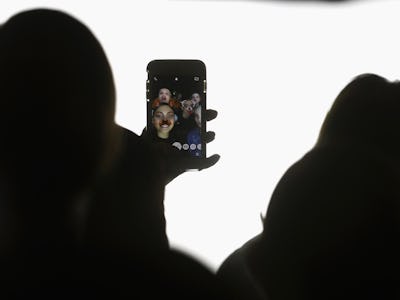 Getty Images / Mark Kolbe
Snapchat is rising up the social media ranks to become the content king, ruling the internet from the bandwidth throne. It's users consume nearly 800 hours of video per second, mainlining countless clips of of dog face filter videos, face swaps, and highly questionable Bob Marley tributes.
For some context, 800 hours is the same amount of time it would take to watch all 60 Game of Thrones episodes back to back 14 and a half times, or travel from LA to San Fransisco 960 times on the future hyperloop (or a mere 150 times by plane). Snapchat users are collectively racking that much video-watching in one second, according to a collection of data from digital marketing agency Go Fish Digital.
In the four or so years since it was founded, Snapchat has grown into a social media juggernaut that rivals Facebook, Twitter, and Youtube. It's third in total hours of video consumed per second, behind only Facebook and YouTube. The latter isn't entirely comparable — the site is dedicated solely to video, after all but Facebook is only slightly ahead of Snapchat at 1,157 hours of video consumed per second, and that's with 16 times Snapchat's 100 million monthly active users. Snapchat's user base is niche enough that media organizations still feel the need to publish articles titled "How to use the Snapchat app all the millennials are talking about" on the exact same day Go Fish published its Snapchat statistics.
Part of Snapchat's numbers reveal people's desire for private person-to-person communication. Go Fish found that half of college Snappers use the app because it's a good way to stay in touch that's often easier than texting. Their research also found that only two percent use Snapchat for sexting, although it's hard to imagine anyone seriously answering "sexting" when questioned by a data surveyor.
Snapchat is also focusing on pushing sponsored content, making brands and advertisers stories easier for users to watch and pumping up their own financial value at the same time. It's rapidly growing user base (especially among the 18-24 age range) is a bloated crowd of dollar signs to Snapchat's owners and investors.
Snapchat has kept up with its growth by adding features like subscriptions, memories, and in-app advertisements. Its valuation has soared from $5 million in 2012 to $20 billion in 2016. It already surpassed Twitter's flagging user number, and has set its sights on beating Facebook next.
Snapchat's speedy rise seems unstoppable. Unless, of course, all those millennials talking about it have already moved on to Pokemon Go.