Lana Condor: Asian Superheroes Are "Highly Underrepresented"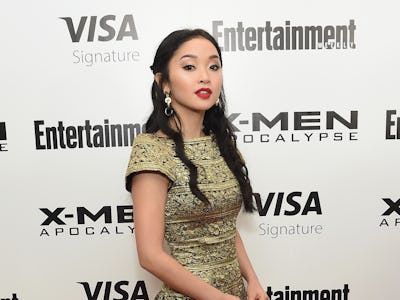 Getty Images / Jamie McCarthy
Hollywood is pumping out more blockbuster superhero movies than ever before, and in some spots, making a push for more racially diverse characters and filmmakers. But the new effort has not, for the most part, extended to better representation for Asian-Americans. Lana Condor, the Vietnamese-American actress who played Jubilee in X-Men: Apocalypse, was just one of two Asian actors in superhero movies this summer, and she is hoping that the roster won't be so scarce in the future.
"We're highly underrepresented," she told Inverse in Canada over the weekend, during an event to promote the film's Blu-ray and DVD release. "I love that I'm doing this because I want to show Hollywood that people don't just like this, but it actually works, especially in big blockbusters. I'm hoping I made a small impact for us fellow Asians, in Hollywood and in life."
Condor also gave a shout out to Karen Fukuhara, who played Katana in this year's Suicide Squad from DC Comics and Warner Bros; she was the only other actress of Asian descent to appear as a superhero (or supervillain) this summer. While some critics lamented the stereotypes of Katana, Condor was enthused. "I was so happy to see that." She added in a joking tone: "Now all the franchises have one! Let's go!"
There has at least been a growing conversation about Asian representation in film this year: The live-action adaptation of Ghost in the Shell, Doctor Strange, and The Great Wall have come under fire for casting white actors as characters that are Asian in the source material. This spotlight has compelled Asian actors like Constance Wu and Ming-Na Wen to speak out. At the 2016 Emmys, Aziz Ansari and Alan Yang won Best Comedy for Master of None, and on stage, Yang told Asian parents watching to get their kids "cameras instead of violins and we'll all be good."
Jubilee's screen time in X-Men: Apocalypse was relatively short in comparison to the movie's more major charaters, and the only time Jubilee uses her powers — Jubilee can generate pyrotechnic energy — was in a deleted scene that leaked online. But in the comics and the popular X-Men cartoon from the '90s, Jubilee was a much more prominent force, giving Condor hope for future installments.
"I want to prove to everyone she is epic and she can be amazing and powerful," she said. "I wanna fight. I would love to fight."