'Whitewashed Out' Twitter Trend Zeroes In On Hollywood's Lack of Asian Representation
Margaret Cho, Constance Wu, along with several other Asian creatives joined together on Twitter for a major discussion about how Hollywood treats Asians.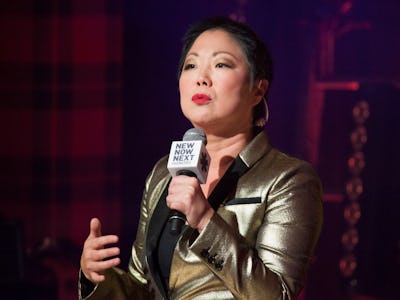 Santiago Felipe / Getty Images
One of the most audible discussions to come out of the past few weeks centers on yet another problem with race in major media, and unless you've purposefully hidden the news away, it's hard to deny that the past few weeks haven't been brutal for Asian actors in Hollywood. Marvel's choice to change Doctor Strange's The Ancient One from a horrible Asian stereotype to a Celtic woman played by Tilda Swinton has been argued and reasoned in so many directions that it still remains at the top of headlines today. Scarlett Johansson's debut as "The Major" — a character previously known as Major Motoko Kusanagi — stirred even more lively discussion on opportunities (or lackthereof) for Asian actors.
Today, Margaret Cho and a handful of other Asian celebrities led a discussion on twitter that lasted for hours, calling upon the Hollywood decision-makers who refuse to cast actors of color in more high-profile roles. The discussion's hashtag, #whitewashedOUT, continues to trend nationwide on twitter at the time of this post.
Cho kicked off the conversation, in which writers, directors, producers, and actors of Asian descent sounded off on various problems within the industry that continue to plague Asian creators today, as white actors on the big screen dominate roles with Japanese surnames.
The conversation went for Marvel's casting choices almost immediately.
Actor Beau Sia didn't spare anyone in his take-down of the hard work that Asian creators put into fight choreography.
Some fans recalled a simpler time, when perceived "risks" of multiracial casting did not exist.
Writer Nicole Chung highlighted the importance of representation, and seeing people who look familiar in major media.
Cho pointed out the constant casting of Asian women as silent victims and girlfriends — never the heroines of their stories.
Fresh Off The Boat's Constance Wu highlighted one recent issue in a bold, public post.
More than anything, the conversation focused on understanding the problems Hollywood has today so that the industry can improve tomorrow. Fans and creators alike chimed in with ideas and gratitude for the conversation.
Catch up with the #whitewashedOUT hashtag here.