Tilda Swinton Addresses Ancient One Role After "Dr. Strange" Trailer
"Any one of us can be Ancient Ones," the actress said at San Diego Comic-Con.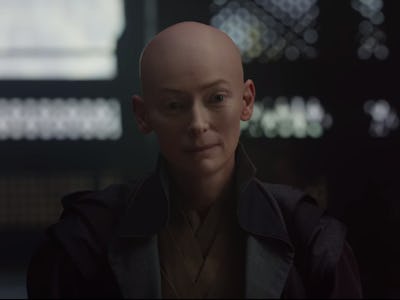 YouTube.com/Marvel Entertainment
Marvel's casting of Tilda Swinton as the comic book character the Ancient One for Doctor Strange was both celebrated and criticized, given the character's original portrayal as an Asian, specifically Tibetan, male. While it was generally well-received that Marvel gender-bent the character, the choice was simultaneously criticized for white-washing an Asian role — a big problem in Hollywood and pop culture that's become more pronounced in recent films.
Swinton has remained relatively silent on the issue, with her only "defense" thus far being that the "Ancient One" is now a title one can inherit in the film. At San Diego Comic-Con Saturday evening, Swinton subtly addressed the controversy (collected via tweets below) saying that the Ancient One is all about "what's on the inside."
"Any one of us can be Ancient Ones," she said at the panel at Comic-Con. "That's what the amazing thing is about the comics."
It's a valiant effort, at least, and Swinton herself is by no means offending anyone for taking a role she's being paid for. And it's especially hard to argue against a sentimental notion that we can all be who we want. I agree!
But there's a larger concern: that Hollywood at large is keeping diverse voices and people from visibility. Whenever a studio like Marvel does meaningful, progressive moves — like it's doing with Black Panther — it's worth celebrating. But when the studio doesn't, it's just a reminder of how far pop culture still has to go.
Marvel will release Doctor Strange on November 4. A new trailer also premiered at the panel, which you can see below.