Apple's Next Great Innovation Is ... This Patented Paper Bag
Yes, a literal paper bag.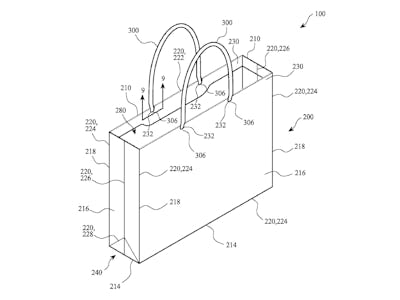 Apple
Apple unveiled a bunch of new technology and inventions at its keynote event earlier this month, but it would seem that the tech giant's most groundbreaking innovation is yet to come: Behold, the Bag.
Apple filed a patent for the bag in March, and the U.S. Patent and Trademark Office published it on September 15.
But what is "Bag?" you're probably asking, assuming that you've never seen a bag before in your life. Apple describes it like this:
"A paper bag is disclosed. The paper bag may include a bag container formed of white solid bleached sulfate paper with at least 60 percent post-consumer content."
This confusing sentence folds in upon itself with the force of an imploding star and offers all the clarity of a black hole. The hundreds of words that follow it in the lengthy patent application aren't literary masterpieces themselves, but eventually, the "special" part of the bag design becomes clear.
Most fancy retail bags — the crisp white ones with a nice sheen — aren't as environmentally friendly as Apple's planned bag. The fancy ones are typically less than 50 percent post-consumer content, because a higher percentage would make them "too weak (e.g., prone to tearing) for use in a bag," according to Apple.
Apple's "Bag," however, features "reinforcement inserts," meaning that "Bag" is both environmentally friendly and strong.
Now, Apple's packaging design is usually pretty great, and the company goes to great lengths to ensure that the boxes its devices come in are as distinctive and artful as the actual electronics themselves. It makes sense that they'd want to patent aspects of their packaging design.
But still … a basic paper bag? I mean, it doesn't even have a headphone jack.